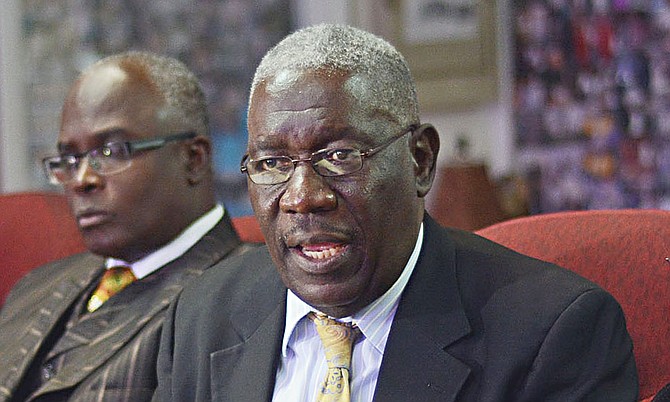 By NICO SCAVELLA
Tribune Staff Reporter
nscavella@tribunemedia.net
AFTER eight years of championing the cause, Bishop Simeon Hall yesterday announced he is "throwing in the towel" on agitating for Government to resolve the CLICO debacle.
Bishop Hall suggested to former policyholders in an outgoing fashion: "Call your pastor or your MP and put pressure on them."
In a brief statement, the prominent policyholder and pastor emeritus of New Covenant Baptist Church, explained that his decision was due to his "sheer frustration" over the lack of progress towards achieving a positive resolution.
Claiming that "someone else has to take us over Jordan," Bishop Hall urged former policyholders to reach out to their religious leaders and area representatives in hopes that "maybe that kind of agitation will bring greater than I have achieved."
Nonetheless, Bishop Hall said he is "getting too old to be doing these kinds of things." Instead, he said, he will direct his energy towards dealing with "family matters," such as attending to his South Beach home, which he said sustained "a lot" of damage from Hurricane Matthew.
Bishop Hall also said he is done "wasting my time" in trying to get State Minister for Finance Michael Halkitis to give an update on the matter, adding that "I don't think I should be sitting outside any minister's office for more than an hour and still can't see him."
"It's sheer frustration, man," Bishop Hall said of his reasons to abandon his long-fought battle. "And I'm getting too old to do these kinds of things.
"I just felt like I'm not getting anywhere, and they keep putting it off from March, they said it was August, then September, then October then November and now I understand it's gone to December .
"So I told the persons who showed up last night, call on their MPs and call on their pastors and maybe that kind of agitation will bring greater than I have achieved. But I'm tired and frustrated, and I don't think I should be siting outside any minister's office for more than an hour and still can't see him.
"I'll just leave it alone, and let somebody else do it, or let Mr Halkitis do it."
When asked if he would still try to reach Mr Halkitis, Bishop Hall said: "Not at all. I'm not wasting my time with him anymore. I'm a pastor. If he comes through then fine but I'm not doing anything more with this."
Bishop Hall's statement, and subsequent comments to The Tribune, came less than a week after he criticized the Christie administration for not honouring its self-imposed mid-November deadline for the issuance of compensatory government bonds, stating at the time that a potential end to the CLICO debacle was beginning to look more and more "like a hopeless situation."
Last month, the government said CLICO (Bahamas) policyholders would receive their compensatory government bonds by mid-November plus accrued interest, and that it would "earmark" over $40m to facilitate the payout process.
The bonds in question are designed to compensate clients of the insolvent life and health insurer who are owed more than $10,000. The bonds can be obtained by the exchange of promissory notes issued by the government at the end of March.
However, the government said the issuance of the government bonds would happen once the insurance license for Coral Insurance Company, the government's special purpose vehicle (SPV) for this process, is processed and completed, which was expected to be no later than the second week of this month.
The statement said once "duly licensed with regulatory approval in hand", Coral's "first order of business" would be to undertake a bond offering of approximately $45m, the proceeds of which will be "earmarked" for issuance to qualified CLICO (Bahamas) policyholders in exchange for the promissory note letters issued by the government "reflecting residual claim balances owing" following the partial claims payout exercise earlier this year.
Before that, Prime Minister Perry Christie had promised that a collective $16m cash payout would be issued to victims of the CLICO situation before the end of March.
Mr Christie said at the time that the insolvent insurer's executive flexible premium annuity (EPPA) holders, and surrendered pension policies, would receive a cash payment capped at $10,000.
Anything owed above that sum would be paid off via the issuance to former clients of seven-year promissory notes (government bonds), which will provide them with quarterly insurance payments at the prime rate (4.75 per cent).
Via the payout process, some policyholders recovered at least some of their life savings and long-term investments, all of which were lost when the life and health insurer collapsed into insolvency in 2009. However, some policyholders have said they still have not recovered any lost funds. Bishop Hall's brief statement to CLICO (Bahamas) policyholders said yesterday: "Before the 2012 elections this government promised it would address it – less than 10 per cent was paid and we remained hopeful the balance would be paid in this lifetime.
"Call your pastor or your MP and put pressure on them. God bless you."