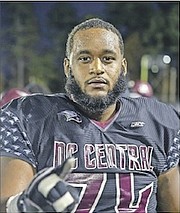 By BRENT STUBBS
Senior Sports Reporter
bstubbs@tribunemedia.net
JAMAAL Symonette never played a football game before he left the Bahamas as a teenager. But for the past four years, except one year when he sat out with an injury, he has been one of the top offensive linesmen for the North Carolina Central University Eagles.
Symonette, back in action after sitting out the 2013/14 season, started every game at right tackle for the Eagles this season. On Monday, the Mid-Eastern Athletic Conference (MEAC) named Symonette to its All-MEAC Football Team as a member of the All-Academic Team and All-MEAC Second Team after posting the team's second-highest grade of 89 per cent on blocking assignments with 27 pancake blocks.
The 23-year-old son of Geoffrey and Audrey Symonette will be graduating from NCCU on December 10 just before he and the Eagles play in the second annual Air Force Reserve Celebration Bowl inside the Georgia Dome in Atlanta December 17 in a game at 12 noon that will be televised on ABC.
"I never really watched football growing up, but somebody just came from Florida and looked at me and told me that I have a good size to play football, but I said I wasn't interested," said Symonette, who prides himself as being a grand nephew of the late Timothy Gibson, the 1973 author of the Bahamas national anthem. 
"My parents told me that I should give it a chance and it brought me a free education. It allowed me to get a degree and my parents didn't have to pay a dime."
After leaving St John's College in 2010, Symonette enrolled at Miami Beach Senior High School for one year before he transferred to a private school in Hialeah, Florida and then it was on to NCCU where he studied accounting where he earned his degree.
But at 6-foot-3 and 298 pounds, Symonette is even prouder of the way he has been able to hold his own at right tackle as he soared for the Eagles, including starting in every game they played this season.
"When I first came to NCCU, we were really bad. We were about 2-9," Symonette remembered. "When we got our new coaches in 2014, everything turned around for us. We won two championships in 2014 and 2015. This year, we went 9-0 in our conference and December 17, we will be playing for the bowl game.
"I feel confident with my team. We always step up to the competition. Last week we played our rival school AT&T and it was a war going into the game, but we knew that we were the better team and we came out victorious. Going into this bowl game, we are going to prepare like we do any other game in the regular season. We are going to go out there to win."
During his tenure at NCCU, Symonette said he was excited to be a part of three championship teams in a row and to cap it off personally by being named All-Conference for academics and second team All-Conference member. There were also a number of other achievements that Symonette said he will take with him when he finishes as a member of the Eagles' team.
But if there's any regard or disappointment, he indicated that it will be having to sit out the 2014 season after he ended the 2013 season with double shoulder surgeries that kept him out of action until 2015. The good thing coming out of the ordeal is that he never gave up. He remained focused on getting healthy again to finish off strong this year. It's a lesson he wishes to share with other Bahamians who hope to follow in his footsteps.
"Don't give up. Keep fighting no matter what," he said. "I came from a place where there were times when I didn't know if I would eat. Just keep pressing forward and put God first and I can guarantee you that everything will fall into place."
Symonette, who enjoys eating fried chicken and listed 'Naked and Afraid' as his favourite show, 'Unruly Prayer' by Popcaan as his best song for him to listen to, his favourite book to read as 'The Glass Castle' by Jeannette Walls, 'Black Hawk Down' as his most popular movie to watch and Kobe Bryant as his most impressive athlete, said once he graduates, if there's no offer on the table for him to play professionally, he will enter the job market.
But he noted that in February, he is scheduled to come home with his former coach in Miami to the Bahamas where they will participate in a showcase for local players. 
"This will be my coach's first time in the Bahamas trying to teach Bahamians how to play football," Symonette said. "So it will also be a nice homecoming for me as well."
Over the period of time he's been playing the sport, Symonette at one time or the other has shared the field with a number of Bahamians, including Sheldon and Lawrence Williams, who are enrolled at Acadia Academy in Canada; Delmar Taylor, who graduated from Florida International University and is now a personal trainer at US1 Fitness Center in Miami; Anthony Hamilton, who is playing for Florida Atlantic University and quarterback Ricardo Lewis where they attended Miami Senior High School.