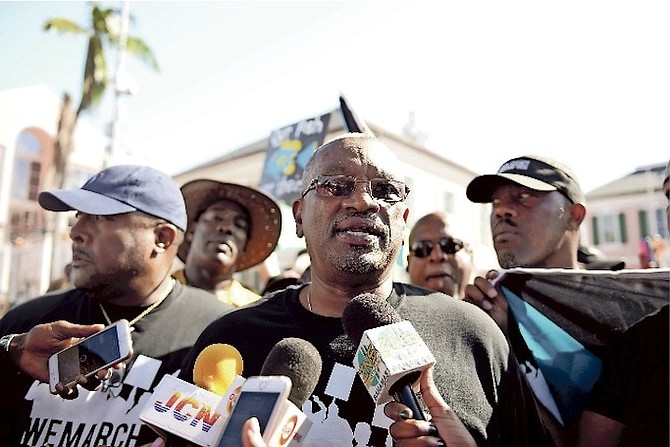 Reader poll
213 total votes.
By SANCHESKA DORSETT
Tribune Staff Reporter
sdorsett@tribunemedia.net
OPPOSITION Leader Dr Hubert Minnis said last Friday's "We March Bahamas" protest has "opened" his eyes and he is now a "different, changed" leader.
In an interview with The Tribune, Dr Minnis said the people want a new type of leader "who will listen to them and take action".
He said this is the "people's time" and vowed that if elected prime minister during the upcoming election, he "will follow the instructions of the people."
The Killarney MP also chastised Prime Minister Perry Christie for failing to show up at the march and attempting to "arrange a secret meeting" with its organisers.
On Friday, hundreds of Bahamians took to the streets to protest against the government for its ineffective management of the country's affairs.
Promoted as a silent protest, the event began at Arawak Cay at 1pm, with one estimate of up to 1,000 gathering at the meeting point.
Dressed all in black, protesters faithfully marched from Arawak Cay to Rawson Square without incident, occasionally singing the Bahamian national anthem and chanting things like "the power of the people is better than the people in power".
Many of the protestors occupied Rawson Square until 1am Saturday.
"The people are frustrated and the people are tired," Dr Minnis said yesterday.
"The march was not just against the Progressive Liberal Party it was against the government as a whole and against politicians. They were saying 'this is what we want, listen to us, enough is enough.' They want a new type of (politician) and want the same old way to stop.
"I will be a different type of leader, the protest opened my eyes. I will listen to my employer and do what is right for the Bahamian people. This is the people's time and I will listen to what they have to say."
Dr Minnis said he does not blame protest organiser Ranard Henfield for not wanting to meet with Mr Christie. Last Tuesday, Mr Henfield issued a list of 23 non-partisan demands to Mr Christie and several other government ministers.
Mr Christie, in a five-page statement on Thursday, said he was "painfully" aware that the country has suffered tremendous setbacks and invited the group to meet. However, on Friday Mr Henfield said he had no intention of meeting with the prime minister at the "ninth hour." He also said that the organisers of the protest would meet with the nation's leader once their demands are met.
"The people don't want a secret meeting, they want action," Dr Minnis said.
"They don't want to talk and our prime minister is nothing but a talker. All he does is have secret meetings and secret deals in dark rooms and have secret contracts. That is why they don't want to meet with Mr Christie. I don't think he understands the purpose of the march, the people are frustrated and the government is acting as if they are employers as opposed to employees. Mr Christie has a record of not listening to people, but that will not be me."
Organisers of the protest have promised to stage a similar event on Majority Rule Day if the government does not meet their demands.
The group is pushing for the government to table its long promised Freedom of Information legislation and provide a detailed explanation of how hundreds of millions of dollars in value added tax collection has been spent, among other demands.