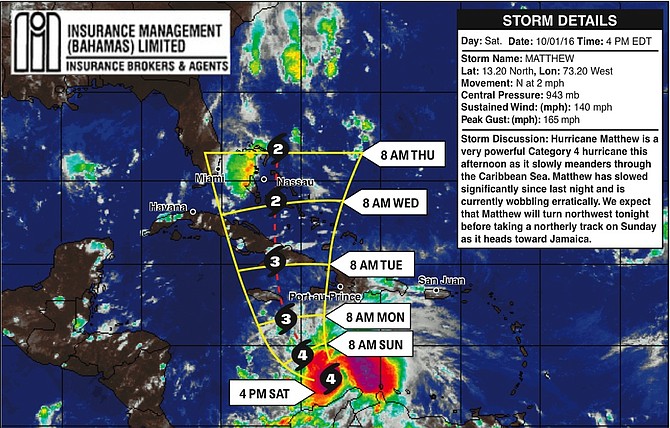 UPDATE: The Accuweather tracking map has been updated with the Saturday, 4pm version.
By SANCHESKA DORSETT
Tribune Staff Reporter
sdorsett@tribunemedia.net
HURRICANE Matthew is expected to bring six to eight feet of storm surges, severe thunderstorms and several inches of rain as it moves through the Bahamas next week, Director of the Department of Meteorology Trevor Basden said on Friday.
At a press conference at the National Emergency Management Agency (NEMA), Mr Basden said while Hurricane Matthew had strenthened into a category 4 storm with 140mph winds, it is too early to say how strong the storm will be when it arrives in the Bahamas on Tuesday.
He is urging residents to continue to monitor the progress of the storm and be prepared for "what ever may happen".
Crooked Island, Acklins, Long Cay, Ragged Island and Exuma will be the first group of islands to be impacted on Tuesday.
The storm warning comes as the country gets ready to mark the first anniversary of Hurricane Joaquin, which ripped through the central and southern Bahamas on October 1, 2015, destroying homes and buildings and leaving heavy flooding in its wake.
"The strongest winds would be in Long Island, Inagua, Cat Island and Eleuthera but again this is initially, so we will be issuing alert Watches and Warnings for the entire Bahamas," Mr Basden said.
"There will be rain, thunderstorms and also the potential of tornadic and water spout activity. These will be included in Watches and Warnings we will send out periodically. We are also looking at storm surges at about six to eight feet, several inches of rainfall and we all know that some 80 per cent of the Bahamas is 10 feet or less above sea level and we are flat so we can expect significant to severe flooding on some islands."
NEMA Director Captain Stephen Russell said the agency is prepared for the storm and he is pleased with the state of readiness in New Providence and the Family Islands. He also urged residents to make this weekend "Hurricane Matthew Preparedness Weekend".
"Over the past two or three days, we have been making contact with all of our island administrators, making contact with local disaster committees in all of our islands to ensure they have been meeting and I am pleased to inform you they have been meeting and early into Monday they will meet again to  finalise their plan of action," Capt Russell said.
"We are pleased with how the communities are coming together and making themselves aware of the storm. Please continue to monitor the approach and prepare to safeguard yourselves and your properties."
Capt Russell said annoucmenets of school closures, ports and emergency services will all depend on how the storm fares as it passes over Cuba.
According to weather experts Accuweather, during Friday and Saturday the centre of the storm will be well away from land.
However, the large size and strength of the storm will cause breezy conditions with occasional squalls along the northern coasts of Venezuela and Colombia, as well as the southern coasts of Puerto Rico, the Dominican Republic and Haiti, the weather website added.
"Persons in Jamaica and Haiti, followed by eastern Cuba, and later the Turks and Caicos and the Bahamas should be prepared for deteriorating weather, which could feature hurricane conditions from Sunday into early next week," according to Accuweather.
"In many of these areas, damaging winds, coastal flooding, flash flooding and mudslides from Matthew will threaten lives and property."
The US National Hurricane Center in Miami reported that Matthew strengthened rapidly into a powerful category 4 hurricane with maximum sustained winds of 140mph on Friday afternoon. During the night Matthew briefly reached category 5 status before weakening slightly.
The centre of the storm was about 565 miles south of Port-au-Prince, Haiti at 8am on Saturday and moving west at 7mph. Hurricane-force winds extended outward up to 35 miles from the centre and tropical-storm-force winds up to 195 miles.
Forecasters say Matthew's westward trek was expected to slow later on Friday and that a turn toward the west-northwest is forecast by Saturday night. The storm is then expected to further turn toward the northwest by early Sunday while churning across the central Caribbean.
The centre of the hurricane is projected to pass just to the east of Jamaica early on Monday, but the storm was large enough that it could affect the entire island, and the first effects of the storm may be felt starting on Saturday, said Evan Thompson, director of the National Meteorological Service. A Hurricane Watch has been issued for the island.
Jamaica activated its National Emergency Operations Centre and Prime Minister Andrew Holness called an urgent meeting of Parliament to discuss preparations for the storm.
Parts of the country, especially the eastern tip and higher elevations, could get up to eight inches of rain. Flooding and some landslides are likely. "We do consider it serious," Mr Thompson said. "We are all on high alert." The capital, Kingston, is in the southeastern corner of Jamaica and was expected to experience flooding.
A tropical storm warning is in effect along the coast from the Colombia-Venezuela border to Riohacha.
Matthew passed over the eastern Caribbean on Thursday, causing at least one death. Officials in St Vincent said a 16-year-old boy was crushed by a boulder as he tried to clear a blocked drain.