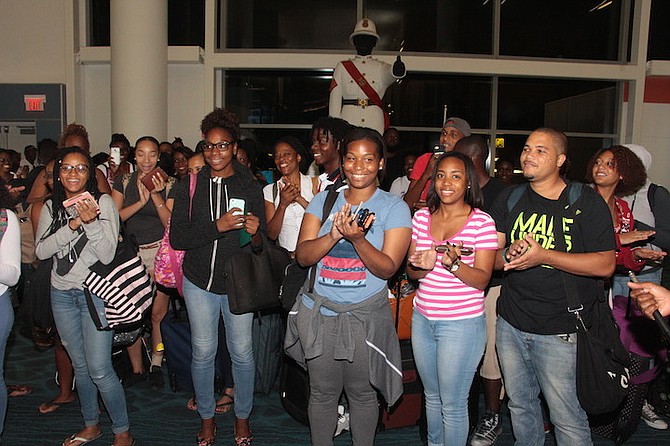 BAHAMIAN students in Jamaica threatened by the approaching Hurricane Matthew arrived in Nassau late on Saturday night on a Bahamasair flight organised in conjunction with the government.
Minister of Foreign Affairs and Immigration Fred Mitchell said it had been a successful flight and students were greeted by the Prime Minister at Lynden Pindling International Airport when they landed around 11.15pm.

Mr Mitchell added that no additional Bahamasair flights to Jamaica are needed for Sunday morning after earlier fears the flight was over-subscribed due to the cancellation of a Caribbean Airlines flight to Nassau on Sunday.
He paid tribute to the Honorary Consul in Jamaica, Alvita Knight, for marshalling the operation and said he had been in contact with Jamaican authorities throughout the day.
Earlier on Saturday the ministry said it was informing parents of students studying in Jamaica, as well as the students themselves, that a Bahamasair flight would depart from Norman Manley International Airport, Kingston, on Saturday night.
Matthew, a powerful category 4 storm, is forecast to hit Jamaica from late on Sunday.
A statement from the ministry said: "The Jamaican Government and the education institutions have assured the Bahamas Government that all the necessary safety precautions are in place in preparation of the hurricane for those who choose to stay." It gave details of who to contact and when to report to the airport.
Details on the return flight - which Mr Mitchell said would go once the all clear is given in Jamaica - will be given on the Ministry's website or Facebook page at mofa.gov.bs and www.facebook.com/mofabahama. Mr Mitchell said no similar arrangement needed to be made in respect to Cuba.