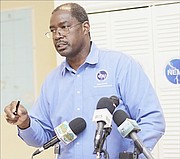 By RICARDO WELLS
Tribune Staff Reporter
rwells@tribunemedia,net
AS Hurricane Matthew takes aim at Jamaica and Haiti, emergency management officials in The Bahamas along with other governmental agencies have ramped up preparation efforts as computer models project landfall in the southeast Bahamas by Tuesday.
National Emergency Management Agency (NEMA) Director Captain Stephen Russell said yesterday the agency has been in "constant communication" with administrators in the southern Bahamas over the weekend, working to ensure that those islands are "adequately prepared" for the effects of the category four storm. Personnel in the southern Bahamas have been instructed to "ensure that their facilities are up and running".
A hurricane watch was in put into effect for the southeast Bahamas yesterday, including Mayaguana, Inagua, Crooked Island, Acklins, Ragged Island, Long Cay, Samana Cay, and the nearby Turks and Caicos Islands. A hurricane watch means that hurricane conditions could be felt in the alerted islands within 48 hours.
Capt Russell urged residents in those islands to monitor news stations for up-to-the-minute coverage, warning that they should be prepared to relocate "at a moment's notice if the situations dictates".
"We want those residents to know where the shelters are located," he said. "They all need to be prepared for all scenarios connected to this storm. We are warning and urging, this is the time to get prepared."
He continued: "If the plan is to remain in their homes, residents need to ensure that their homes are prepared. If they are preparing to relocate to a shelter, this is the time to ensure that all important and essential items are compiled and ready to go."
Calls placed to officials in the southeast islands by The Tribune went unanswered; however, Capt Russell has assured The Tribune that communication between his office and these islands has remained constant and uninterrupted.
A hurricane alert remains in place for the northwest and central Bahamas, including Long Island, Cat Island, Rum Cay, San Salvador, the Exumas, Eleuthera, New Providence, Andros, the Berry Islands, Bimini, Grand Bahama and Abaco. This means storm conditions could be felt within 60 hours.
Matthew, a powerful category four hurricane with maximum sustained winds of 145mph, with higher gusts, was centred about 325 miles southwest of Port-au-Prince, Haiti, 255 miles south east of Kingston, 445 miles south of Inagua and 730 miles south south east of New Providence at 11pm on Sunday and moving west at five miles per hour.
The storm was expected to turn northwest and then north last night. On this track, Matthew's centre should approach southeastern Haiti, Jamaica and eastern Cuba today and into Tuesday and move north across the heart of the Bahamas from Wednesday into Thursday. Even if Matthew has weakened to a category three hurricane by then, it could re-strengthen over record warm sea-surface temperatures.
Hurricane-force winds extend outward up to 25 miles from the centre and tropical-storm-force winds extend outward up to 195 miles. Matthew is expected to produce total rain accumulations of eight to 12 inches over the southeastern Bahamas, with isolated maximum amounts of 15 inches.
Storm surge and large and destructive waves could raise water levels by as much as 10 to 15 feet above normal tide levels in the central and southern Bahamas.
Last night, the Royal Bahamas Defence Force cancelled all vacation for its members as of today. A statement from Commander Defence Force (Acting) Captain Tellis Bethel told all non-duty personnel to report to Coral Harbour Base at 8.40am. "This includes persons who are not on duty at the various outpost such as Harbour Patrol Unit, Port Security Unit, the Airwing Base and Military Police and Force Protection Unit. Personnel are to come prepared for deployment to Family Islands as directed," the statement read.
Bahamian students studying in Jamaica were airlifted out of the country in preparation for the arrival of Matthew on Saturday.
The students arrived in Nassau shortly after 11pm on a Bahamasair flight and were met by Prime Minister Perry Christie.
The Bahamas remains on high alert, as the threat of Matthew comes nearly a year to the date that Hurricane Joaquin made landfall in the southern sections of the country, devastating a large section of those communities in the impact zone.
Devastated
In Long Island, one of those islands left devastated in the wake of Hurricane Joaquin last year, repairs are still underway as community leaders there continue efforts to get that island back to normal.
Island Administrator Terrece Bootle-Bethel said residents there are taking warnings very seriously. She noted that there is a level of nervousness among Long Islanders, as the fear over Joaquin and what it did has left many of them scarred.
She stated: "We are working, and as in the nature of these things, no one can pick when the time is best. This comes at a time when we are still recovering from last year and there remains some challenges."
She made note of drainage issues in Scrub Hill, Long Island, an area that proved critical during Joaquin. During that storm, major flooding in the area completely divided the island, making it impossible for the island's southern residents to make it north.
She said the island's council made a recommendation for the installation of a new drainage system in the community, but no final decision was made in that regard. She said if Matthew makes landfall with huge downpours of rain, the island could see heavy flooding just like last year.
Administrators on these southeast islands are expected to report back to NEMA with any potential issues with shelters ahead of the storm, and update officials in New Providence of any issue that may arise during the hurricane.
Shelters
As of late Saturday, official shelters in Acklins were identified as Nurse's Residence in North Acklins, Snug Corner Primary School, Spring Point Community Centre and the Ebenezer Baptist Church.
In Crooked Island, Ezekiel Thompson Hall in Cabbage Hill, Church of God of Prophecy in Cripple Hill and Deleveaux's Residence in Major's Cay, have all been named shelters.
Additionally, Mayaguana has selected Abraham's Bay High School and Pirates Well Primary School as their shelters, while Inagua has selected Zion Baptist Church, St Michael's Methodist Church and St Phillips Community Centre as shelters.
In Ragged Island, the island's Administration Building has been identified as the emergency shelter.
Residents in Long Cay have been directed to seek shelter at Collie's Duplex in Albert Town, the Command Centre or relocate to Cabbage Hill, Crooked Island prior to the storm's landfall.
A full list of the 2016 hurricane shelters can be found on tribune242.com