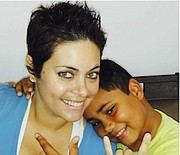 By BIANCA CARTER
You know this word well. Chances are you've heard or read over and over in the last few years. People talk about it, and it's all the rage right now, kind of like how yoga, gluten-free, dairy-free, GMO are. It's that other 'G' word – gratitude – and it makes some of us very anxious.

I, like some of you, have read several self-help motivational books that ooze the word gratitude.
I've watched "The Secret" part 1 and part 2, and attempted to read the second book. OK, I did read the second book and it was quite process-orientated. I like structure, so having a guide on how to practice gratitude was good for me. But what if you're not like me. What if you feel overwhelmed by the endless to-do lists that life throws your way.

I get it; I have a very full life too. Honestly, even I couldn't keep up with the daily routine of writing 10 thankful thoughts followed by sentences of why I was thankful for them. And yes, I did find myself cheating-myself. Obviously you're meant to do these gratitude exercises with intent and conviction, but I must admit, with a schedule like mine, I was rushing it and then did it every other day, which then turned into once and week, and now I don't do it at all. Don't get me wrong, I have daily moments of gratitude where I verbalise my thanks to the world around me, and most importantly, to the one above. However, I can't help but wonder if there may be other ways that we could exercise our desire to be a little more thankful in a negative and less gracious world. Could it be that the first step to being in harmony with the practice of gratitude is to let go of perfection and this all-or-nothing way of thinking?

Life doesn't work in such rigid ways; it's includes many grey areas.

So if I couldn't, like many others, maintain this everyday written diary of gratitude, maybe practicing a single thankful thought or topic for a day would do the same for our lives and hearts.

People show and practice living a life with gratitude in many different ways. Take Lori Portka for example, she built an art exhibition around being thankful for 100 people in her life; it's called "100 Thank You's".

Her inspirational and highly visual form of love and gratitude are really beautiful. So whatever suits you best, I encourage you to start small and have a plan of what works for you and in your daily life; it's very much a practice, and as practicing goes, you get better with time.

After having a weekend filled with stories of gratitude and love, I thought it would be appropriate to share these thoughts on the topic and to let you know that we don't have to be perfect in our quest to be better and do better.
I'm going to start my gracious engines again, and this time I won't allow myself to fall completely off the wagon. I'm going to reconnect in a bite-sized way to my centre and start practicing gratitude daily, but in the way that works for me and my life, and I encourage you to do the same.

Let's make this a 30-day challenge. Add it to the list, because I know some of you are already committed to a new wave of thinking and doing something for 30-days, as is the trend these days.

This challenge will be all up to you though; you make the rules and lay out the plan. Follow it as you see fit in the smallest, most significant ways, and I'm sure you'll start to see real change in the best, most needed parts of your life. And the best part of this is that it's your plan and you're the boss, so do it your way. Maybe if we can get each other motivated in this way we can elevate ourselves and vibrations to a whole new and exciting level. Gratitude grows, and I have no problem catching the gratitude bug, do you?
Love and hugs!
• Bianca Carter is a certified lactation counsellor and founder of Bun in the Oven.

For more information, e-mail her at info@babybunintheoven.com. Follow BITO on Facebook at babybunintheoven, and check out the BITO Blog every Monday and Thursday at http://babybunintheoven.com.