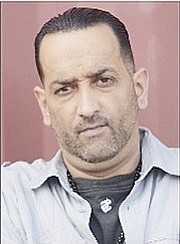 By Inigo 'Naughty' Zenicazelaya
AS we all prepare for the unwanted visitor, Hurricane Matthew. And yes all preparations and safety precautions must be adhered to in this one, Matthew is a big boy with a 'stink attitude.'
Nothing to be taken lightly, and hurricane prep is no light work. So as I take a five downing a cold 'brewski' or two or three....
A few other famous 'Hurricanes' came to mind. It has long been a known fact, my entire sporting peer group will tell you the only team from the state of Florida that I have ever supported, or will ever be a fan of, is the University of Miami Hurricanes.
Yes 'the U' or nothing!
I could easily go on for days about the veritable who's who of 'Canes greats that have starred in the NFL post collegiate glory.
Despite it being a painstaking, maddening task I've managed to compile a 'Top Five' list of all time 'Canes greats. All category 5's in their own right.
(I'm all for suggestions so if you have some 'Canes greats, that you feel should be on there, email me at naughty@tribunemedia.net so I can add them to the list.)
BERNIE KOSAR -
QB
Bernie Kosar was instrumental in the University of Miami becoming known as "Quarterback U."

Kosar threw for 5,971 yards and 40 touchdowns as quarterback in 1983 and 1984. He is best remembered for leading Miami to its first national championship as a redshirt freshman in 1983.

Kosar was named MVP for his 300-yard passing performance in the Hurricanes 31-30 victory over the Nebraska Cornhuskers in the 1984 Orange Bowl Classic.



Although Kosar only played two seasons, he left UM holding school records for career passes completed, passing yards, total offence and touchdown passes thrown, all since eclipsed, but still holds the record for career passing completion percentage.


In 1984, he was a first team Academic All-American.

Kosar was a first-round NFL supplemental draft pick of the Cleveland Browns, a team he spent nine seasons with. He finished his NFL career with 23,301 yards and 124 touchdowns. In 1993, he was a member of the Super Bowl XXVIII champion Dallas Cowboys, and ended his career with the Miami Dolphins.
In 1994, he was named the University of Miami Alumnus of Distinction. He was inducted into the UM Sports Hall of Fame in 1995, and in 1998, he joined the GTE/CoSIDA Academic All-America Hall of Fame. Bernie was inducted into the UM Football Ring of Honor in 1999.
MICHAEL IRVIN -
WR
The 15th of 17 siblings, Irvin was born in Fort Lauderdale, Florida. He first attended Piper High School then went on to become a football star at St Thomas Aquinas High School and was heavily recruited by the University of Miami, one of the top collegiate football programs in the nation.
With the University of Miami, under coach Jimmy Johnson, Irvin set school records for career receptions (143), receiving yards (2,423 - later broken by Santana Moss) and touchdown receptions (26).
He was part of Miami's 1987 National Championship team, and made one of the most legendary plays in school history that year, scoring on a 73-yard fourth quarter touchdown pass from Steve Walsh, torching Florida State All American Cornerback Deion Sanders in the process. That touchdown, provided the margin of victory in Miami's triumph over arch rival Florida State.
In the National Championship Game against the top ranked Oklahoma Sooners in the Orange Bowl,the 'Canes won 20-14.
Since leaving the University of Miami, Irvin has remained a staunch supporter of the Hurricanes' football programme, often seen on the Miami sideline during big games and giving tutorials to receivers. He has also acted as a mentor off the field to younger Hurricane players over the years.
Irvin won three Super Bowls with the Dallas Cowboys in '92 '93 and '95 and is an inductee in the Pro Football Hall of Fame.
RAY LEWIS - LB
One of the most intimidating Hurricanes ever, Ray Lewis' dominating field presence changed the way teams prepared to play the 'Canes.
His punishing abilities as linebacker made opposing coaches draw up special plays to try and contain him, while their teams' QB and running backs were always nervously looking for #52.
Starting as a true freshman, the Bartow native racked up awe-inspiring numbers and a bevy of honours in his three-year Miami career.



Lewis holds the UM individual season record for tackles by a MLB with 95, and incredibly is tied for second in career total tackles and assists with 160. He was named All BIG-EAST in 1994 and 1995 as well. Lewis played three years for 'the U' and ironically was the recipient of the very last scholarship available in 1993.



Voted the Jack Harding MVP of the team after the 1995 season, Lewis opted for the NFL draft and became a first-round pick of the Baltimore Ravens. Lewis was also the NFL's defensive player of the year in 2000 and was named MVP of Super Bowl XXXV, leading the Ravens to their first-ever world championship. Lewis is also inducted into the NFL Hall of Fame.
Lewis remains beloved both in Baltimore and Florida. He regularly donates of his time and money to a variety of worthy causes, among them "Ray's Summer Days", which raises money for his non-profit foundation.
Lewis is a proud alumni who feels 'completely blessed' to be part of the Hurricanes rich football history, 'Ray Ray' will go down as one of the best to ever play for the 'U'.
WARREN SAPP - DT
A consensus All-American and the first Hurricane to win the prestigious Lombardi Trophy, Warren Sapp was a man among men as he annihilated opposing quarterbacks in the early 1990s.
Along with All-America honours, Sapp was a unanimous Big East Defensive Player of the Year winner and earned Hurricane football's highest team honour, the Jack Harding MVP award.
A first-round draft pick of the Tampa Bay Buccaneers in 1995, Sapp is one of the select few players to earn both an NCAA Championship football ring and a Super Bowl ring
FRANK GORE - RB
As a true freshman for the University of Miami in 2001, Gore totalled 575 yards with 5 touchdowns on 62 carries (a 9.3-yard avg), the third-best season total in school history by a freshman and was named Sporting News' Big East Freshman of the Year.
He suffered a torn anterior cruciate ligament in his left knee before spring practice in 2002 and spent the following season recovering from knee surgery. Before his injury that year, Gore beat out Willis McGahee in the spring of 2002 for the role as the Hurricanes' starting running back. Just another indicator of the talent this programme has produced.
Gore returned in 2003 and rushed for 100 yards in each of his first three games of the season. He also returned for his senior year in 2004, then ran for nearly 1,000 yards during the season.
Gore has been a force in the NFL ever since his arrival in 2005.
Until we chat again, safe passage through the storm to all of you. I will keep you all in my prayers as we ride out the storm.
May God bless us and keep us all!
• Naughty presents 'Mischief and Mayhem in da AM' from 6am to 10am, Monday to Friday and 'The Press Box' sports talk show on Sunday from 10am to 1pm, on KISS FM 96.1. Comments and questions to naughty@tribunemedia.net