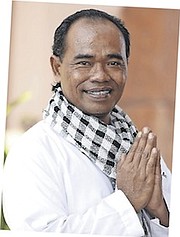 Yoga through the millennia
The group of physical, mental and spiritual practices known as yoga are believed to have first been developed around 5,000 years ago by the ancient Indus-Sarasvati civilisation in Northern India
However, some researchers argue the practice can be traced as far back as 10,000 years. However, due to the tradition of oral transmission of sacred texts – or writing texts on fragile palm leaves – and the secretive nature of it's teachings, it is difficult to pinpoint exactly when yoga got its start.
The word yoga was first mentioned in the Rigveda – an ancient Indian collection of Vedic Sanskrit hymns.
In Vedic Sanskrit (a Indo-Aryan language), yoga (from the root yuj) means "to add", "to join", "to unite", or "to attach" in its most common literal sense.
The ultimate goal of yoga is moksha (liberation), although the exact definition of what form this takes depends on the philosophical or theological system with which it is conjugated.
The Upanishads – Hindu sacred treatises written in Sanskrit circa 800 to 200 BC – teaches the sacrifice of the ego through self-knowledge, action (karma yoga) and wisdom (jnana yoga). This was time of pre-classical yoga. It was followed by classical yoga, post-classical yoga and the modern period, which encompasses the 1800s until now.
While the practice of yoga is thousands of years old, it only gained prominence in the West in the 20th century, following the success of the Indian Hindu monk Swami Vivekananda, who travelled from India to Japan, China and Canada en route to the United States, in the late 19th century, in spreading his teachings.
Esoteric views current at the end of the 19th century provided a further basis for the reception of Yoga with its theory and practice of correspondence between the spiritual and the physical.
The American-born yogi Pierre Arnold Bernard, after his travels through the lands of Kashmir and Bengal, founded the Tantrik Order of America in 1905. His teachings gave many Westerners their first glimpse into the practices of yoga and tantra.
Then in 1947, Indra Devi opened her yoga studio in Hollywood. Since then, many more western and Indian teachers have become pioneers, popularising yoga and gaining millions of followers to this day.
By ALESHA CADET
Tribune Features Reporter
acadet@tribunemedia.net
Even though his stay in the Bahamas was cut short due to Hurricane Matthew last week, Balinese Guru Made Sumantra said he enjoyed the country and liked the energy he felt from the people.
During his 24-hour stay, he said, he received "great energy" from Bahamians.
"I came here to the Bahamian people to share energy and I like the people I see here," he said. Guru Sumantra was in Nassau for the celebration of Mandara Spa's 20th anniversary worldwide and its 15th anniversary of operating at Atlantis, Paradise Island.
"It is really nice to celebrate Mandara's energy," he said.
While exploring its Balinese heritage earlier this year, Mandara Spa encountered the teachings and insights of Guru Sumantra. The spa decided to collaborate with the guru to bring the art of healing touches to the world, with the final stop of this unique tour being Paradise Island.
The Healer Project, as the tour was called, launched in May, and Guru Sumantra visited places like Bali, Tokyo, Kuala Lumpur, Dubai, Abu Dhabi, New York, Uncasville in Connecticut, and Orlando in Florida.
Guru Sumantra was born in the village of Banjar Payogan in Bal, and grew up in a family of traditional Balinese shaman healers.
The healing tradition was passed on from his grandfather, who got it from his ancestors. Balinese shamans still play a central role in public healthcare in Bali and this has remained virtually unchanged since ancient times.
The Balinese lineage of healing normally skips a generation and is passed down through the male line. Guru Sumantra was the boy chosen by his grandfather to keep this tradition alive within the family.
Guru Sumantra began his healing practice with his own family and gradually extended it to neighbours, and eventually anyone who heard about him. Additionally, he continually improved his knowledge by way of learning from other healers, praying in temples and other sacred places, and through spiritual discipline. Most importantly, Guru Sumantra found his spiritual teacher, Maha Rsi Markandeya, and surrendered to God (Lord Siva).
At the Yoga Healing Bali centre, he said he has been able to help countless locals as well as people from around the world with their physical and spiritual problems.
Through his work and the financial support of Yoga Healing Bali, Guru Sumantra was able to establish Ashram Civa Linggam. The ashram was established to further assist the spiritual needs of the seeker and to offer people from other cultures the opportunity to fully experience his culture and to develop an understanding of universal spirituality. There is accommodation in the Ashram for the person who wishes to study deeply and to do that in a very quiet, serene, isolated environment.
Throughout his entire life, Guru Sumantra said he has devoted both time and money to local communities and currently travels around the world to help people.
During his visit to the Bahamas, he was scheduled to perform healing services and yoga classes at Atlantis for three days, but only managed to complete one day of sessions because of the oncoming hurricane.
"The trip was short, but I really liked the sessions," said Guru Sumantra.
"Many people came, so I think next time more people would be interested. On my journey throughout the world everyone always asks me to come again. Yoga sessions are not just body movements. You have to use your heart, mind and more concentration on energy. Also, you have to give love to your body, because with love you will be quick to heal. I just guide people, because a true healer is within your soul. I just guide your energy with instruction and love. During my last session I actually gave homework on how to maintain the energy received during the sessions."
Christina Sorondo, marketing director at Land Based Spas and curator of The Healer Project, said Mandara Spa wanted to mark its 20th anniversary in a special way, and knowing the Bahamas was also celebrating the 15th anniversary of Mandara at Atlantis they chose The Cove as one of the tour stops.
Ms Sorondo expressed the company's love of Bahamian culture and said she believes it has a lot in common with Balinese culture.
"The feedback was great. I had people asking, 'Will he be here all week?' I think he brings a very different perspective and a level of happiness that you see in Bali," said Ms Sorondo about the demand of Guru Sumantra's teachings.
"That is something that is ingrained in their culture and it is something we seek here in the Western Hemisphere. The whole trip was well received with a level of genuineness. He has his own method in which he brings different types of yoga and encompasses it into one technique that relieves you in different ways," she said.
Ms Sorondo said they hope to bring Guru Sumantra back to the Bahamas during the hurricane-free months next year.
"Matthew put a damper on this whole trip and trumped him out of here, but he wants to come back and his arms are open and so is his heart," she said.
Yolanda Deveaux, regional vice president of the Caribbean and Central America for Mandara Spa, said Guru Sumantra's tour helped
refresh the spa's brand and remind people what they stand for. She said it was great to for the him to able to teach people around the world the yoga principles and healing touches that have been passed down through the generations in Bali.
"This is actually his first time in the Bahamas, so it was quite a pleasant experience for the guests and people booked in advance to come and participate in the sessions this morning," said Ms Deveaux. "I used to be a marathoner, running all over the world. Health is the cornerstone of who I am. It is a lifestyle and it is really a necessity. We practice what we preach and we want to bring healing and wellness to our brand, to our country, because it is really important."