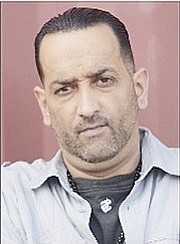 By Inigo 'Naughty' Zenicazelaya
THANK God since the last time we caught up, we all made it through the ravages of Hurricane Matthew, safe and sound.
Matthew seems to have left some comedy in its wake, in the form of gas lines, ice lines and especially lines at KFC!
The creativity and ingenuity displayed by my Bahamian brothers and sisters in line cutting and back door hook ups must be applauded.
I'm convinced if 'line cutting' and 'back door toting' were Olympic events, we would be unbeatable as a nation with medals galore.
Luckily I've gotten power back and I got the legit hook up at KFC, so I watch the antics and behaviour of my Bahamian people on the aforementioned lines, like sporting events and reality television. I must admit it's quit entertaining and amusing.
Here's some other observations during the hurricane break.
1 Ezekiel Elliott is the real deal, and he's living up to all the pre-Draft hype
Here's where I get to say "I told you so."
Because I did, right here in an earlier SMM column. I wonder how all of the experts and Cowboys fans that wanted the Cowboys to take the likes of Joey Bosa, Jalen Ramsey or Myles Jack with the fourth overall pick in the NFL Draft feel right about now?
Would those players, had they been selected instead of Elliott, have had the same impact on the Cowboys, and would they be in their present position of first place in the NFC East at 4-1?
Ahh ... No!
Elliott leads the league in rushing, 545 yards, he's averaging over five yards per carry, with five touchdowns, including a beautiful 60-yard touchdown scamper on Sunday against the Bengals.

Elliott reminds me of two former Cowboy great running backs and NFL Hall of Fame members. 'Zeke' posses the power and drive of Emmitt Smith, with the elusiveness and world class breakaway speed of Tony Dorsett.
Barring injury and any unforeseen off-field issues, 'Zeke' has the potential to challenge Smith's NFL career rushing record.
All of that remains to be seen, but right here in the 'now' Elliott is the best back in the league (Todd Gurley, David Johnson are in that conversation also) and he's only going to get better.
2 I actually missed
Tom Brady
Yes, I can't believe I just typed that!
Well, it's more like I missed hating on him, but nonetheless, Brady's back and the hateful rants and conspiracy theories on my end will return in abundance.
Sadly the window is now closing for Tom, we've only got so many more goes at this before he retires into obscurity with his supermodel wife Gisele. Poor fellow!
Leaving me to find a new source of hate (potential new candidate Carson Wentz, QB Eagles).
The touchdowns seem to be returning to New England in abundance also, just look at the 33-13 score from Sunday's Patriots game against the Browns.
Enough said, anemic offence cured. Fantasy football landscape changed and annoying 'Bradyites' confessing their man crushes and undying love for 'Tom Terrific' all over social media ad nauseam.
Ah, the NFL just how I like it, and seeing how my Cowboys are an impressive 4-1, winners of four straight games, so bring on the comparisons, verbal jousts and sports arguments.
Just remember get your facts right: my Cowboys are winning, their future is very bright, and I drink Jack Daniels and Coke (you have to pay for your schooling somehow.)
3 The Miami
Dolphins suck
No seriously, the Dolphins really suck.
Rookie Head Coach Adam Gase (ga-ze) should change his name to 'Haze' or 'Daze' because he's been lost and confused all season long, and his team has been overwhelmed all season long.
At 1-4 and seemingly out of it already, the Dolphins need to focus on developing young talent on the roster and playing for the first pick in this years NFL Draft.

Oh and throw wide receiver Jarvis Landry all the balls, I have him in Fantasy Football this season on two of my teams, I need points out of him weekly, period.
I could care less if the Dolphins win or lose.
4 Anybody else ever notice Steelers QB Ben Roethlisberger and actor/comedian Will Ferrell are identical twins separated at birth?
That observation brought to you by Jack Daniels.
5 The Los Angeles Lakers have kicked off their NBA pre-season schedule
After three games the Lakers are 2-1 and playing hard for rookie Head Coach Luke Walton.
The young Lakers will have their share of growing pains but as a diehard Laker fan, I must admit watching PG DeAngelo Russell, SG Jordan Clarkson, F Brandon Ingram and PF Julius Randall continue to grow and develop together, along with Walton calling the shots from the sideline, is going to be fun for years to come.

Until next week, continue to be safe during the hurricane recovery, leave some KFC for the rest of us, and remember there is NO GAS SHORTAGE so stop blocking up the roads.
Finally and most importantly, put some 'respect' on it when one refers to my Dallas Cowboys.
The Cowboys are 4-1 and winners of four straight games: words like crappy, dead, lousy, sorry, worthless no longer apply to the Dallas Cowboys. They can now be applied to a certain NFL franchise in south Florida with the big 'fishy' mascot exclusively.
• Naughty presents 'Mischief and Mayhem in da AM' from 6am to 10am, Monday to Friday and 'The Press Box' sports talk show on Sunday from 10am to 1pm, on KISS FM 96.1. Comments and questions to naughty@tribunemedia.net