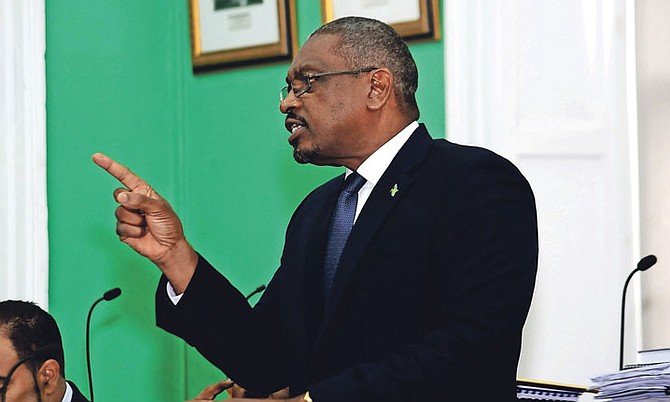 By RASHAD ROLLE
Tribune Staff Reporter
rrolle@tribunemedia.net
THE government's Hurricane Matthew recovery and restoration efforts will involve cronyism and victimisation, Free National Movement Leader Dr Hubert Minnis said during a press conference yesterday when he attacked the Christie administration just days after the storm departed the Bahamas, leaving behind a trail of destruction.

Despite his public rebuke, the FNM leader did not disclose evidence of corrupt behaviour from the government in this regard.
Dr Minnis was also critical of the performance of Bahamas Power & Light in the aftermath of the storm, saying the "old BEC" would have restored power to more Bahamians by now.
He also criticised the government's response before and after the storm.
"We know the PLP has a history of cronyism, a history of dishonesty and a history of corruption and a history of victimisation," he said. "I am not really listening to what they say about transparency and how they are going to not look at the political landscape. An election is coming. If they have demonstrated overt victimisation and cronyism immediately after the last election, God help what they can do with the coming election just to ensure they have the advantage to win.
"The FNM will closely monitor how this government spends the people's money. We will monitor the involvement of Shane Gibson to ensure that all of the PLP generals, as we've seen with Hurricane Joaquin, are not given their orders as to whom and who they have to look after. The PLP has a history of that. A leopard does not change its colours overnight. They will continue, and I urge the Bahamian populace that when they see overt victimisation and discrimination, which is inevitable with this government because they can't help themselves, they must report it to the FNM and we will be vigilant about this and we will be on top of the PLP like white on rice."
Labour and National Insurance Minister Shane Gibson, the government's czar for hurricane restoration efforts, said in response to Dr Minnis: "We have a Bahamas to rebuild and restore. We welcome the monitoring of this transparent process."
As for the government's performance in preparing Bahamians for Hurricane Matthew, Dr Minnis said: "I was not impressed."
"I thought the government dropped the ball in dealing with the storm," he said. "The government knew such a storm was coming. How can you afterward be asking for trucks, volunteers, etc? All of that should've been done in advance. You knew the storm was coming. You knew the strength of the storm and the potential damage. You knew what was going to happen to the south. Therefore you should've already had trucks, chainsaws, garbage bins, dumpsters all lined up to deal with it appropriately."
Following the storm, Dr Minnis visited North Andros and Grand Bahama, two areas hardest hit by Matthew, with Prime Minister Perry Christie.

However, he said yesterday that he did not discuss during the trip with Mr Christie his concerns with the government's response to Matthew.
"We would've entered no overt conversation as to what needs to be done," he said.
On the issue of BPL, Dr Minnis said: "I don't know whether BPL is profit driven or humanitarian driven.
"BEC in its original sense was humanitarian driven, not profit driven and some private sectors look more at dollar and cents."
Dr Minnis also said Mr Christie should have been more active in dispelling rumours that the island was running out of gas in the wake of the storm.
"The prime minister had a right to inform the Bahamian people that it was rumours and you should not be very concerned and you should not carry on in the manner that we had seen," he said.
"What could've happened, is we could've had a disaster. We could've had riots, people getting killed and the prime minister sat idly by and had not come early to the nation and informed the nation that there was not a problem with gas in the country and advise all to remain calm. They were very irresponsible in dealing with that matter inappropriately. That's nothing new with the PLP."