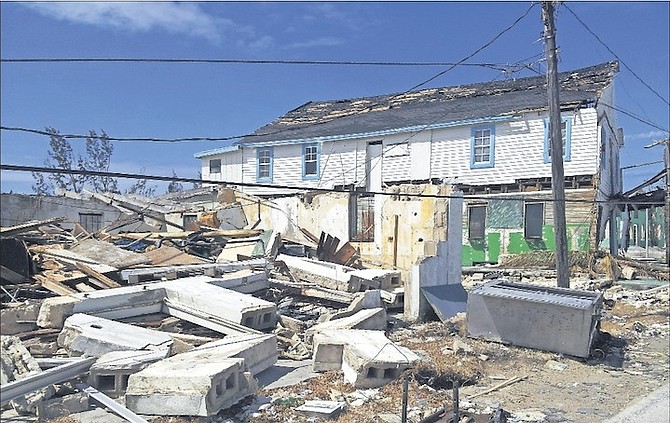 Ricardo Wells sees and hears for himself the overwhelming needs in Grand Bahama . . .
HOW does one compute the devastation of a storm?
In Grand Bahama it would be fair to conclude that it comes down to the 18 hours it took Hurricane Matthew to move in and out of the area. Or the 1,250 regular poles and 225 transmission poles, plus accompanying attachments needed on the island. Or even the 92,363 manpower hours needed to erect those poles.
It can even be better described as two days, the time Grand Bahama's hospital administrator said the Rand Memorial can continue go without power in the wake of the storm.
Catherine Weech made that sobering statement on Wednesday. During a briefing held at the Pelican Bay Resort this week, Ms Weech told officials that the facility could not sustain operations on another two days of self-generated power, as the facility's generator was beginning to fail.
Lives were in the balance, she said, adding that patients were in critical condition, many needing sustainable power. All at risk.
This statement floored many in the room, most of whom had just concluded tours of several of the island's hardest hit areas - Pinder's, West End and Eight Mile Rock.
"I understand the issues," Sarah McDonald, president and CEO of the Grand Bahama Power Company (GBPC), said. "Even with all our crews, we just can't get there fast enough. So the damage around the hospital, if you been in the downtown area, it is so extensive and the damage on that line, from the plant to the hospital, it would normally be first on. But we have to clear some of the first lines before we can even get to that side.
"We know it's critical. We are doing our very best. We have shuffled every plan we have to say how soon we can get the hospital on. So while it looks like we are not turning them on first, it's only because we can only energise this first group and it requires us to energise this first group to make it to the hospital."
Early last Friday morning Hurricane Matthew moved in on Grand Bahama with winds in excess of 150mph, storm surge up to 10 feet and rainfall in the range of five inches. The massive storm had concluded a devastating run through New Providence and put its finishing touches on parts of Andros. According to Ms McDonald, the forecast path of the storm indicated that Grand Bahama was in for a serious ride.
Prior to the storm, eight specialists from Canada flew in to Grand Bahama to assist GBPC with restoration. On Sunday, two days after the all clear was given, a caravan of 36 personnel and 30 vehicles - ranging from bucket trucks, line trucks, diggers and a mobile command unit - arrived in Freeport from GBPC's Tampa affiliate.
Those crews, working alongside local crews, had up to Wednesday, erected 130 poles in Grand Bahama - barely scratching the surface of the task ahead in terms of scope and manpower.
Ms McDonald said the company is doing its best to keep the public informed about the status of its restoration effort despite communication challenges.
She said the company remains devoted to establishing a "solid and safe plan" to restoring power. While admitting that the company still didn't have a "clear restoration plan" in place, Ms McDonald asked residents to "rest assured". She added that GBPC was working to bring every possible resource to bear in hopes of bringing resolution.
"The restoration would feel a little different this time than it has in the past," she said. "Normally, we would focus on our transmission lines, the backbone of our system that carries the higher voltage across the island, and then we would proceed to energise individual areas. Because of the extent of damage to particular transmission lines, we determined that our traditional approach would mean that no one would be energised for weeks. Instead, we have selected the least damaged lines to clear so that we can progressively restore customers.
"This approach means that you may have no power and look across the street to see a neighbour with power. You may look around your area and not see any damage, but the power grid is a connective web and if there is damage further down the line you could still be without power," she added.
Hurricanes, in their infancy, jump classification; they strengthen and, at times, they weaken. But, once they make landfall and affect lives, they become something categorically different. They become metrics, warnings, references, and in some cases tales passed down from generation to generation.
While the city of Freeport may remember this storm for its impact on infrastructure, residents in West End, Eight Mile Rock and Pinder's will certainly tell the stories a little differently.
Power may return in weeks, but rebuilding the homes, business and churches there will take a lot longer.
"Where are the supplies?" shouted one man as Prime Minister Perry Christie's detail drove through the Eight Mile Rock community on Wednesday.
As the journey lengthened on Wednesday, the bystanders' waves became more frequent. There were children whose homes were destroyed, who do not know when they will return to school. Storekeepers affixed to their shop-fronts, the goods behind them holding little in value in comparison to the repair costs looming.
Cecil P Shillingford, Dominica's Disaster Risk Management advisor, who was in the country as part of a CARICOM delegation touring the islands of the Bahamas hit by Matthew, said: "Matchsticks. I can never forget matchsticks after seeing these communities. Last year we had a significant event, Tropical Storm Erika and also Matthew when it was a tropical storm went through Dominica, and we had some significant damage.
"But when I look at this area of the Bahamas, it is very significant. I've seen a lot of telephone poles and electricity poles broken like matchsticks. Although our Tropical Storm Erika was a significant event, in that we had almost 30 something deaths, it was a rain event so there were a lot of deaths because of flooding and mud slides. But the wind damage here, it is just something else."
Prime Minister Perry Christie reminded Grand Bahamians of their "indomitable spirit," saying although Hurricane Matthew had dealt the island a severe blow, it could recover as it did before from storms Frances and Jeanne in 2004.
rwells@tribunemedia.net