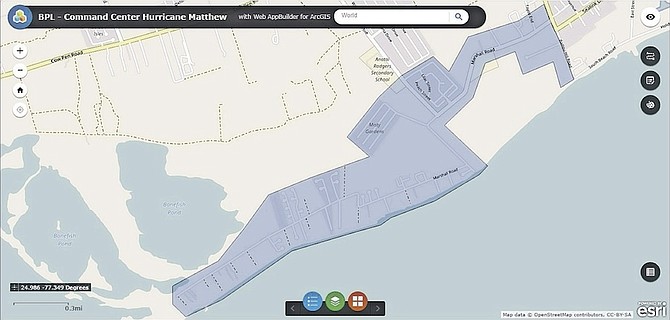 THE National Emergency Management Agency (NEMA) says it is strengthening its organisational structure and systems to effectively bring about assistance to Bahamians impacted by Hurricane Matthew in its latest progress report.
The agency said last night this is being done through a three-tier system, organised to include ground assessors, zone or district co-ordinators, technical and social services teams.
Social services teams have already assisted many of the families impacted in the hard hit areas of New Providence, North Andros and West End, Grand Bahama. The teams are being strengthened so as to expedite and conclude assessments as soon as possible, as the relief and recovery phases are being carried out.
NEMA said Hurricane Matthew left thousands of downed power lines, major disruption to communications, electricity services and other utilities, and massive flooding and storm surge along the eastern and southwestern shorelines of New Providence. It passed through North Andros, destroying 80 per cent of homes in Lowe Sound. The neighbouring communities of Nicholls Town, Morgan's Bluff, Red Bays and Mastic Point also experienced damage due to strong winds and extensive flooding. In West End, Grand Bahama, Matthew left 95 per cent of the buildings in Eight Mile Rock and Holmes Rock significantly damaged.
NEMA said North Andros is being assisted with food and water from the Royal Bahamas Defence Force (RBDF) container city where meals are provided daily for those residents.
The Government, through NEMA, has intensified its relief and recovery phases, ensuring that immediate supplies such as water and food reach those in need shipped by the RBDF vessels.
Each constituency is being given two big rolls of tarpaulin to be distributed by designated teams comprising Social Services, Defence Force and Housing to ensure residents whose homes suffered roof damage were protected from further leaking.
The Ministry of Tourism, through its cruise ship partners Carnival and Norwegian Sky, have, with the assistance of NEMA, distributed thousands of pounds of ice and water to residents in need.
Some financial assistance is coming in from the local and international communities - Commonwealth Bank, the Chinese Embassy, the Church of Jesus Christ of Latter Day Saints and others.
"The utility companies such as BPL, BTC, Cable Bahamas and Water & Sewerage are reporting restoration efforts in an effort to return to some sense of normalcy, the lives of affected residents," NEMA said in a statement.
"Utility poles and downed power and telephone lines are being removed and secured daily. As electricity is being restored in various communities, work teams will work through the evening in an effort to expedite the clearing up process."
NEMA reminded people to store damaged appliances and furniture in safe places outside their walls and fences for easy collection by the pick-up crew and where possible, encouraged them to transport garbage, furniture and other bulk waste to the New Providence Landfill at no cost.
The Prime Minister has signed an Exigency Order, enabling impacted residents of New Providence Grand Bahama, the Berry Islands and North and Central Andros to bring in specified goods, duty free.
NEMA also said the government is giving consideration to the incentive and assistance packages to help businesses re-open in the shortest possible time. Meetings have been held with business leaders in an effort to bring relief and develop the most effective model to jump start businesses.
"A comprehensive assessment of fishermen and farmers will commence this week with a view to determining the extent of losses and the level of assistance and support to be given to those impacted," NEMA's statement read. "The Government will work with the Clearing Banks in an effort to devise a formula for persons whose homes were destroyed and large mortgage payments exist. Encouraged by one banking institution which has pledged to review its ease of loan payments programme, the Government will continue to explore all options to soften the hardship persons endure with mortgage loans, where homes were either destroyed or severely damaged."