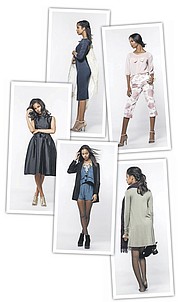 By ALESHA CADET
Tribune Features Reporter
acadet@tribunemedia.net
Aline Charles is more than just a hairstylist, she is a transformer of women.
Sometimes, she said, all it takes are three sessions to see one of her clients emerge as a completely new woman from her stylist's chair.
She recalled the words of praise from her employer at Waves Hair Studio: "I love the way you transform these women. Do you understand what you're doing to them? They don't even walk out the same way they walk in. They walk out in confidence."
Coming to the realisation that she was indeed giving her clients a whole new image, Aline took it one step further and founded an initiative called "The Modern Woman".
This project includes a lookbook and guide with different styles for the everyday woman to transform herself into whomever she wants to be.
" 'The Modern Woman' is not just a project. I would like to think of it as a movement, only because we are forever changing and growing, but because I want to leave room for endless possibilities. With the help of an amazing team – a model, makeup artist, photographer and videographer – I was able to bring to life an image of who I encounter everyday in my chair," said Aline.
As a licenced cosmetologist for the past 10 years, she said she has subconsciously been thinking to herself, "I am styling the average woman as the CEO of a multi-million dollar firm."
As for 'The Modern Woman' lookbook, Aline said it offers five distinct styles to choose from.
"We are now in fall, soon it'll be winter, and with the holidays fast approaching it can feel like a lot to deal with our hair. The majority of women in the Bahamas tend to wear extensions because of how hectic that time of the year can be, so here's a guide that can help you keep up with the day-to-day tasks during the holidays and still keep you looking fabulous. I wanted this one to be as simple as possible," she said.
She said the styles from the lookbook can be done at home and in between salon visits. Aline describes the looks as a bit messy but chic at the same time. 
"In the Bahamas we don't have typical cool, chilly weather every day during the winter, so it is almost impossible to live a frizz-free day. And if the hair is frizzed, so what? You can still be fabulous. The outfits worn by our model were fitting for our Bahamian winter weather and we also used designs by one of my favourite Bahamian jewellery designers and Bahama Hand Prints designed garments...just some of the things I like in fashion basically. Simple, elegant and comfortable. You can be the multi-million dollar woman that I haven't styled yet, so here's a guide to you and I hope you like it," said Aline.
The Nassau native said the field of styling is immense and a person can never get bored working in it, as it allows you to use your creativity and demonstrate who you really are. She looks at a person's hair as an expression of beauty, "a crown you never take off".
"I think all women can agree that we love hair. Whether it's pixie short, long, chemically processed or natural. But unfortunately, not all of us take care of our hair the way we should, which often results in premature hair loss or the hair being severely damaged. Now, when such a person comes to me or any professional stylist it is not a casual meet and greet. It's more like, 'Can you give me back my confidence? I need my identity back.' And with the client's dedication and the stylist's passion, it is often achieved. Some women can now walk in confidence, feeling worthy and fearless. This is what this profession is all about," said Aline.
Her overall goal for 'The Modern Woman' movement is to help put women more at ease when it comes to styling their own hair and encourage them to not automatically reach for the extensions.
"Bear in mind, it is absolutely OK to wear extensions. It is OK to explore and have fun expressing yourself. Just don't let it define who you are," she said.
Aline said she can definitely see this project going places. "I've always enjoyed writing, even at a younger age, and I can definitely see myself writing the untold stories about 'The Modern Woman'," she said.
'The Modern Woman' style guide will be available online at no cost. For updates follow @alinecassandra on Instagram, or Hair & Now Bahamas and WavesHairStudio on Facebook.