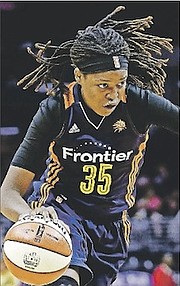 By RENALDO DORSETT
Sports Reporter
rdorsett@tribunemedia.net
FOLLOWING a productive rookie season, Jonquel Jones looks to continue her offseason development in Korea as her season tips off in just under two weeks.
Jones will prepare to continue her pro career as she ventures into the Korean Basketball League after being drafted No.5 by Woori Bank Hansae Chuncheon for the 2016-2017 on July 10 in Seoul, South Korea.
They will open their season on October 29 against the Samsung Life Blue Minx.
Jones finished her rookie campaign for the Connecticut Sun averaging 6.8 points, 3.7 rebounds and 1.1 blocked shot in just over 14 minutes per game. She shot 53 per cent from the field and 33 per cent from three-point range.
She received one vote in the 2016 WNBA Sixth Woman of the Year tally to finish in a five-way tie for fifth behind winner Jantel Lavender.
She ended the season with one of her most productive games - a season high 21 points with seven rebounds - in the Suns' 87-78 win over the Washington Mystics.
"I would say it's been a learning experience," admitted Jones to the Minnesota Spokesman Recorder. "The transition has been a challenging one. But it also has been one I wouldn't trade — a lot of people would like to be in our places to play professional basketball as a profession."
She remains optimistic about her growth this offseason in Korea, in an effort  to prepare for her pro sophomore season.
"It's a great league for player development," She said, "I see that [Korea play] as an opportunity to make money but also get better, so when I come back next WNBA season I will be able to do more stuff that I wasn't able to do this year."
Sun head coach and  general manager, Curt Miller, shared Jones' optimism on the development of her game and looks forward to the player he will get when she returns to the Sun next season.
Jonquel is so talented. She's a presence defensively around the rim. She alters shots. She is going to be a real talented defender." She gets overpowered by the [Brittney] Griners and the [Sylvia] Fowles of the world who bother her with their length," he said, "She's got to dedicate herself to being a pro: the nutrition, strength and training, the conditioning aspect," continued Miller. "She's got to get stronger. It depends also on how much she puts into it."