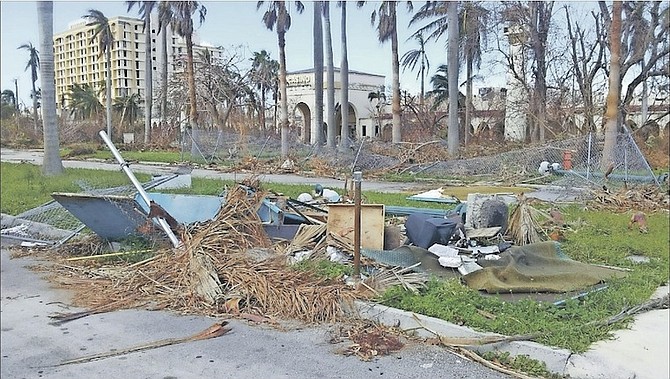 By DENISE MAYCOCK
Tribune Freeport Reporter
dmaycock@tribunemedia.net
WHILE the island of Grand Bahama is now in restoration mode post Hurricane Matthew, the old Royal Oasis resort property and the International Bazaar in Freeport have fallen into further disrepair.
The main entrance dual thoroughfare is littered with debris, and some of the tall Royal Palms and decorative lamp posts lining the entry-way were blown down in the storm."
It is an eyesore within an eyesore, if that's possible. This area was once the gem of Freeport and it is sad to see it in such poor state," said one Freeport resident.
The 500-room tower resort, and the 900-room country club and timeshare, was the island's premier anchor resort property for many years. The casino was the main attraction and visitors flew in from the US to gamble and enjoy Freeport's nightlife, while staying at the hotel.
Guests would shop at the nearby International Bazaar which housed souvenir shops, retail stores, restaurants and bars.
In 2000, the Princess Resort properties were sold to Driftwood, which changed the hotel's name to Royal Oasis Resort and Crowne Plaza. The developers closed off West Sunrise Highway, a major road artery that passed through the property.
The Bazaar thrived off the resort, which had high occupancies and employed about 1,500 persons. Hundreds of Bahamians were also employed in the various shops there.
In August 2004, Hurricane Frances struck and the resort was severely damaged. The developers closed the property, leaving thousands of workers jobless. Businesses at the Bazaar were also affected and many merchants were forced to close or relocate to the Port Lucaya Marketplace.
The only remaining merchants are the Asian restaurants and a few straw vendors.
Harcourt Development later purchased the Royal Oasis resort property, but was unable to redevelop and open the hotel and casino property due to lack of sufficient funding. The hotel and Bazaar deteriorated after years of neglect.
When The Tribune visited the property recently, it looked like a jungle of dried up trees and overgrown vegetation and there appears to be no urgency to clean up and remove debris.
Meanwhile in Port Lucaya, restoration work has commenced at the Marketplace and stores are expected to open when power is restored there.
Royal Oasis was bought by Harcourt Development Group in 2007.