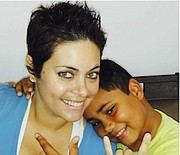 By BIANCA CARTER
There are a several times in the year that make me super excited. And if you're anything like me, you may concur with these dates. Naturally, we'll start by mentioning the beginning of the year, just before Easter; the start of summer when it's not extremely hot, but the breeze lets you know it's beach time, and right now, as we approach Christmas; in the fall season when there's a cooler breeze and can almost smell the cinnamon in the air. This is my fun season. Christmas will sneak up faster than you think. Can you believe there's only 67 days left in 2016?
Since this weekend is Halloween, I thought you might like a few Halloween must-dos:
• Watch a Halloween movie
Many networks have launched their lineup for Halloween, which often include the regular shows with an extra Halloween flare and classic Halloween films. If you've had a peek at the Food Network recently, you might have noticed that most of their stars are showing their Halloween recipes.
And I can't get through the Halloween season without watching a few of my favourite seasonal movies – "Hocus Pocus", "The Addams Family", and "The Rocky Horror Picture Show". It just doesn't feel like Halloween without a good scary movie.
• Prepare your treat bags
You don't really have to do this one, but if you're looking to kick it up a notch or two, consider doing treat bags for your kid's class. There are a ton of quick and easy snack recipes that you can whip up and send to school. The kids really appreciate it! I've posted a few ideas and recipes on the blog, so be sure to check it out.
• Ditch the candy routine
I've ditched the traditional candy-giving routine and replaced it with something a bit different. Last year, I gave fun flavours and colours of popcorn, and the year before I made a Halloween treat mix similar to the Chex Mix you can get in the store.

• Dress up
You're never too old for Halloween. I know there are probably a few of you that want to dress up but have talked yourself out of it, so if you're the type of person that needs permission to do things, here's your permission slip! Do it, it's so much fun.

The kids really like watching the parents dress up. You don't have to go all out if you don't want to; just add a little something festive. I've been a bat or "Bat Girl" as I call it for the past two years. I wear all black and add a headband – super simple! I quite like the "KISS" method for pretty much everything as well.
Happy Halloween!
• Bianca Carter is a certified lactation counsellor (CLC) and founder of Bun in the Oven.

For more information, e-mail her at info@babybunintheoven.com. Follow BITO on Facebook at babybunintheoven, and check out the BITO Blog every Monday and Thursday at http://babybunintheoven.com.