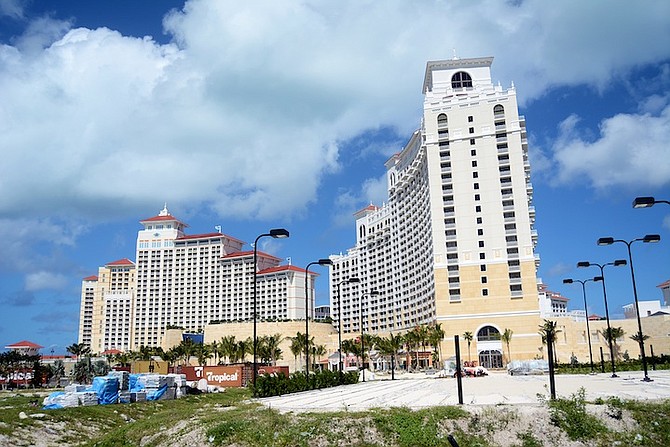 By RASHAD ROLLE
Tribune Staff Reporter
rrolle@tribunemedia.net
AFTER months of speculation and intense national interest, the identity of the company in negotiations to acquire Baha Mar has been disclosed as Chow Tai Fook Enterprises Limited (CTFE).
The Hong-Kong based company said in a statement on Thursday that it "has entered into negotiations in connection with the ownership of Baha Mar."
The conglomerate also said it will work with the government to conduct a phased opening of the beleaguered resort.
The press release suggests that Baha Mar's hotels will be managed by separate brands as originally planned, and not by a signal hotel operator.

The company, however, did not disclose details about the terms of the transaction for acquiring Baha Mar or the ongoing negotiations, citing a non-disclosure agreement.
"CTFE, a world-class developer with immense experience in global hospitality and mixed-use development, has applied to the government of the Bahamas for approval as a proposed investor and acquirer of the Baha Mar resort, by way of acquisition of Perfect Luck Assets Limited (Perfect Luck), the company to which certain assets of the Baha Mar Resort have been transferred," the company's statement said.
"CTFE is dedicated to the successful opening of Baha Mar and will work with the government to achieve the goal of a phased opening," the statement added. "As part of the company's commitment to the project and the Bahamas in the immediate term, CTFE will invest millions ahead of the official deal completion through pre-opening activities and employment – which has already commenced and will be expanded in the coming weeks and months."
A company official said CTFE is committed to hiring as many Bahamian employees as it can to work at the shuttered resort.
"CTFE is looking forward to having Baha Mar join its portfolio of world-class integrated resort development projects," said Dr Henry Cheng, chairman of CTFE. "We are fully committed to this project and plan to hire as many Bahamians as possible to work at the property."
Graeme Davis, the president of CTFE's Bahamas subsidiary, said: "CTFE is a company that embraces and champions the culture and values of the communities where it does business around the globe. We are excited to create an experience in the Bahamas that showcases what we collectively have to offer the world. We are confident that Baha Mar will be a property that Bahamians can be proud of."
Rosewood Hotel, a subsidiary of CTFE Group, has had a relationship with Baha Mar since 2011 as one of the originally selected operators for one of Baha Mar's hotels.
However, after the resort, under the direction of original developer Sarkis Izmirlian, filed for bankruptcy in a US Delaware court in 2015, Rosewood requested that the court void its licensing agreement with Baha Mar, arguing that its brand had been tarnished by its association with Baha Mar.
The company will now be re-engaged to work with Baha Mar, CTFE said.
"As part of the remobilisation efforts, CTFE is already in discussions with hotel brands previously involved in the Baha Mar project, including Hyatt and SLS Hotels," the company said. "CTFE also intends to re-engage its subsidiary, Rosewood Hotel Group, as a luxury hotel operator at Baha Mar."
The company said it has significant experience in the tourism and hospitality sector, noting that Rosewood Hotel Group manages "55 hotels in 18 countries under three different brands."
"Some of CTFE's most iconic owned properties include The Carlye, a Rosewood Hotel (New York); Rosewood London; The Beverly Wilshire, a Four Seasons Hotel (Beverly Hills); and the Grand Hyatt (Hong Kong). Rosewood Hotel Group also operates three resorts in the Caribbean: Jumby Bay, a Rosewood resort in Antigua, Rosewood Tucker's Point in Bermuda, and Rosewood Little Dix Bay in the British Virgin Islands," the company said.
"CTE also has extensive experience with large-scale integrated developments. For example, one of the largest investments in London's history, the over $10b Greenwich Peninsula development project, as well as the Queen's Wharf Brisbane, a $2.3 billion integrated resort development project in Australian, are both CTFE and affiliated company projects."
CTFE is owned by the family of Cheng Tu Tung.
Mr Tung, a jewellery tycoon, was a Hong Kong billionaire who died last month – September 29 – at the age of 91. The year before his death he transferred his personal holdings in six-Hong Kong-listed companies to Chow Tai Fook Capital Ltd. On his death Forbes magazine listed him as the third richest man in Hong Kong with an estimated worth of US$16.6 billion
This announcement came two weeks after Mr Izmirlian made another offer to buy Baha Mar.
In a letter dated October 10, Mr Izmirlian made an offer to purchase the stalled $3.5 billion resort "at a price in excess" of the current undisclosed bid.
Mr Izmirlian said his company BMD Holdings is prepared to pay 100 per cent of all "substantiated" Bahamian claims and all money owed to Bahamians and foreign employees.
In a letter to Liu Liange, vice-chairman and president of Export Import Bank of China (CEXIM), earlier this week, Mr Izmirlian said not only has the bank not acknowledged receipt of the proposal, but "nor has anyone associated with either the bank, the receivers, or Perfect Luck," made contact with him.