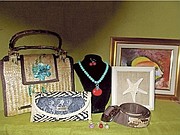 By ALESHA CADET
Tribune Features Reporter
acadet@tribunemedia.net
AFTER 20 years as a straw artist, Beatrice Gardiner feels she is well versed in all of the intricacies of the craft.
To bring her particular brand of art to the masses, she launched her own company – Beagard Land & Sea Designs – which seeks to satisfy its customers' refined tastes
with beautiful, well-executed, handmade straw products.
Beagard Land & Sea Designs offers a variety of bags, hats, fans, wallets, door hangings, wreaths, bookmarks, belts, men's wallets, place mats, portfolios, napkins, jewellery, and more at the Graycliff's Heritage Village, Artist Studios on West Hill Street. 
Straw craft, she said, has always been in her blood.
"Some people speak other languages fluently. I like to say I speak craft fluently. My blood boils with creative juices," she said.
In addition to enjoying the creative process, Ms Gardiner said she loves the interaction with her customers and getting direct feedback on her products.
"We listen to people carefully. When sales are slow we get a good feedback as to what they think we should create next. I like the fulfillment I get from creating, and the fact that I am constantly reminded of how awesome God is to have created me, and indeed to have created all of us and give us the ability to create such wonderful works of art. I like the fact that other persons who we meet in the craft industry over the years have become life-long friends. I appreciate Mrs Gibson from Andros, Mrs Hunter from Cat Island and treasure the legacy that Elsie from Long Island who has now passed on has left us," she said.
Before launching her career in the arts and crafts sector, Ms Gardiner wrote poetry. She participated in poetry readings, contributed to a book published by poets in Cuba, published "The Other Footprint – A Book of Poems", and co-authored "The New Bahamian" with Millard Missick. She also served as secretary of the Bahamas' Writers Association. 
"Now I make most things straw while I keep a light that hopefully shines wherever I am. You know, when the Lord gives us a talent and we use it, it just swings the door wide open for us to receive other talents from Him to be used for His glory. My overall goal for my company is to create items wholesale to ship to the United States and Europe, and to have an online store where purchases can be made," she said.
Ms Gardiner's intention is to also open a few other storefronts, as well as start a school for those interested in learning how to make various craft items.
"People always want to know, 'Where do you get the talent to do such beautiful work?" I say to them, firstly, from the Lord Jesus Christ and then a lot of it came from the influence of my mother, Matred Louise Missick Gardiner. People love the bags and I see the evidence of that because of how much they are purchased. They are impressed with the straw belts made with coconut shell buckles and like the fact that the products are well made," she said.
Ms Gardiner said she is looking forward to taking her Beagard Land & Sea Designs to the upcoming Bahamas National Trust Jollification.
"We also hope to hold straw handbag making classes and approach other souvenir businesses to get more of the wholesale business involved. Beyond that, the sky is actually the limit, and we can hardly wait to see what God has in store for us," she said.