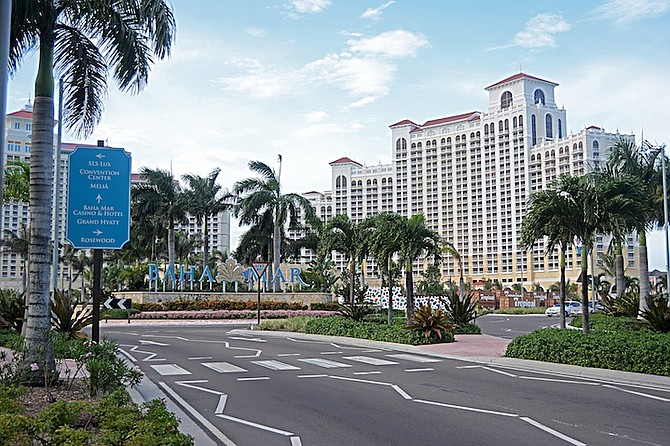 By RASHAD ROLLE
Tribune Staff Reporter
rrolle@tribunemedia.net
JAMES Smith, former State Minister for Finance, head of the committee overseeing Baha Mar payouts, said yesterday that creditors owed up to half a million dollars are "likely" to be fully paid what they are owed.

How much money those owed more than half a million dollars receive, however, will depend on how many eligible creditors come forth with claims, he said.
"Some people might decide to stay out and pursue other means of getting the money," he told The Tribune. "Also, some creditors might have gone out of business or left the island. So we have to see what response we get to the notice (before saying how much money those owed more than half a million are likely to receive)."
Mr Smith's comments came the same day the Claims Committee published a notice in newspapers requesting that unsecured creditors of Baha Mar companies submit their claims by completing a form.
That form was posted on a website established by the committee which requested that creditors identify the total amount of their claims as of October 31, 2015 and offer particulars of their claims and the securities they hold.
Nonetheless, Mr Smith emphasised that payouts to former employees of Baha Mar will be prioritised over payouts to all others.
"The emphasis is on salaried workers and they will make up 90-95 per cent of the people who will receive payouts," he said. "That's the average Bahamian worker distinct from contractors and service providers. The residual will cover the claims of the latter group. Whether that turns out to also be 100 cents on the dollar or less will be determined by how many eligible people come forward to accept a payout."
Mr Smith could not say how much money will be paid out overall, but he expects the Export-Import Bank of China (CEXIM) to deposit the money to the committee by mid-September.
As part of the committee's revelations, the Frequently Asked Questions (FAQ) section of its website also made clear yesterday that its claims process exists on an "ex-gratia basis" and does not involve the court-appointed receivers or provisional liquidators.
This explains why the claims process does not conform to the usual payout process laid out in the Companies Act, which, for instance, states the order in which creditors must be paid.
Mr Smith said: "The bank is under no obligation to make this payment by law because the bank loaned money to one party which was unable to pay the bank and the bank then exercised its right to take over that property. But the agreement the government made with the bank was, there are lots of Bahamians hurting and we want to do something for them. That was done. These payouts are a gift from the bank."
Nonetheless, at least one prominent stakeholder raised concerns yesterday over the "ex-gratia" process, saying it gives the committee the ability to give preferential treatment to some creditors over others.
"The duty of liquidators under the Companies Act is to treat all unsecured creditors equally," the source, who did not want to be named in order to speak frankly about the matter, said.
"Under court supervision, if you give one creditor 50 cents on the dollar, you have to give as equal as possible of that to all creditors. But outside of the liquidation, they could give 100 cents to some and give much less to others. They could discriminate, in other words, because it's not subject to the supervision of the court."
The source said the current arrangement allows the parties to "discriminate against foreigners in particular, something a liquidator can't do."
"A creditor is a creditor in the eyes of the liquidator," the well-placed source said. "It's all very interesting because while you want to take care of Bahamians, you also don't want it to be done in a way that injures the jurisdiction."
In its notice yesterday, the Claims Committee also noted that the only people who can come forward with claims are those "owed directly by a Baha Mar company…For avoidance of doubt this notice does not cover creditors of CCA Bahamas."
Asked about this yesterday, Mr Smith said creditors of CCA will have to seek remedies with that company.
Attorney Wayne Munroe, QC, who has represented the government run Gaming Board in court matters related to Baha Mar, also weighed in yesterday.

"CCA Bahamas has its own resources to pay its creditors," Mr Munroe said. "They are solvent. So once reengaged they will be paid to complete and will no doubt pay people who make demands for payment."
Even as the Claims Committee presses forward with its plans, opposition parties continue to push back at the Christie administration's agreement with CEXIM.
In a statement yesterday, Democratic National Alliance Leader Branville McCartney noted that Baha Mar developer Sarkis Izmirlian made an offer that he claimed would pay "every single Bahamian employee and creditor, regardless if they were contracted with CCA Bahamas or Baha Mar."
"Why is our government seeking to take credit for a deal that has screwed over Bahamians in favour of the Chinese?" Mr McCartney asked.
The deadline for submissions to the committee of claims and supporting documents regarding debt owed by Baha Mar is September 30. Claims are to be submitted by email at info@claimspv.net or in hard copy to Charlene Paul at the Baha Mar Office at the Crystal Palace Casino. The form is available at http://claimsspv.net/.