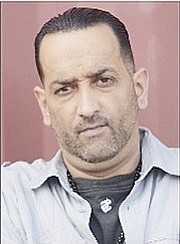 By Inigo 'Naughty' Zenicazelaya
OKAY I know it's the moment you've all been waiting on...... "Naughtydamus" is in the building.
Last season and no more mandate from management to "take it easy on your co- workers from the Tribune" is all behind us.
It's a new season and a clean slate.
Renaldo has broken down "Sannie's NFL Picks Theorem" to me so I've got a good angle on how to handle Mr and Mrs Dorsett.
Ricardo is distracted by Brady's suspension and impending Patriot hiccups with Jimmy G. (I'm not trying to spell it.) at QB.
See you week 5 Ricardo!
Barry Wilner, stay put in your cubicle at AP - you are a non-factor this year.
Finally, let's welcome Leo B, a regular contributor to the Press Box and former pigskin prognosticator at another daily.
Hey, what can I say, he wanted to play in the big leagues. We are tight on space, so just the picks from Leo B.
Now that we've gotten that out of the way here's who I like this week.
THURSDAY NIGHT
FOOTBALL
Panthers vs Broncos
Despite the Championship banner being unveiled, the Broncos fall at home in the Super Bowl rematch.
Von Miller and the rabid Bronco defence will hunt Cam Newton all night, creating a playoff atmosphere.
Since last season the Broncos have lost some key players, while the Panthers are getting their previously injured stars back (see WR Kelvin Benjamin)
Throw in the revenge factor for the Panthers, and a certain rookie QB starting for the Broncos. Not to mention Carolinas staunch defense!
Panthers 23 Broncos 17
SUNDAY NFL GAMES
Titans vs Vikings
Lots of big name running backs in this one on both sides. AP vs Murray and Henry. AP at home in a fantasy football points bonanza!! In addition to the miserly Vikings defence.
Vikings 20 Titans 10
Texans vs Bears
Great way to get your new team stayed with a win Brock Osweiler. You too JJ Watt.
Texans 31 Bears 17
Eagles vs Browns
Yawner, Rookie QB Carson Wentz starts for the Eagles, post Chip Kelly.
I like Wentz long term as a pro, just not today.

New Browns Head Coach Hue Jackson has the Browns believing, a resurgent RG3 at QB, a healthy running game and a potential dynamic receiving corps, especially with the return of mercurial and super talented WR Josh Gordon.
Browns feel good at home to start the season in the upset at home, if this game has a favourite???
Browns 24 Eagles 20
Ravens vs Bills
Bills run wild in a home opening shoot out.
Too many questions for the Ravens at key positions, like running back for starters.
On the other side, the Bills have tremendous balance and talent, on both offence and defence.
Also the Bills are at home, so it's a done deal.
Bills 27 Ravens 20
Chiefs vs Chargers
Chiefs get early season division win, even with RB Jamal Charles on the bench, due to injury.

Chiefs 23 Chargers 20
Saints vs Raiders
The Silver and Black Attack is back!! (COIN FLIP)......... Raiders at home in a shoot out!!
Raiders 31 Saints 24
Falcons vs Bucs
Falcons steal one on the road in Tampa, the Dirty Birds fly off with the division win. Julio Jones with a big day !!
Falcons 31 Bucs 27
Jets vs Bengals
Bengals pounce at home, the Jets will put up a fight, however Jets QB Ryan Fitzpatrick is still rusty from the hold out.
Bengals 27 Jets 24 (OT)
Jags vs Packers
Jags are on the come up, and they put up a tough fight at Lambeau Field, but in the long run QB Arron Rodgers and the rest of the Packer offence are fully prepped and ready to go.
Packers 27 Jags 17
Seahawks vs Dolphins
S E A H A W K S !!!!
Seahawks 24
Dolphins 13
Giants vs Cowboys
I've beaten this one to death all week!! Here we go one more time.
'Dak to the Future' in 'Big D' along with all world rookie RB Ezekiel Elliott aka the ZEKE-AVirus !!
It's doom for the Giants in Dallas.
Cowboys 31 Giants 23
Colts vs Lions
QB Andrew Luck is back and healthy. All is well in Indy now.
That's a bit of 'bad luck' for the Lions at home in this one.
Colts get 'lucky' on the road.
Colts 26 Lions 20
Cardinals vs Patriots
It's September, no snow in Foxborough neither QB Tom Brady. (Sit down and take it with Brady. Pats fans. Oh and SHUT UP while you are at it.)
So I like the Cards to fly high in this one on the road even. Cards 27 Pats 24
Redskins vs Steelers
Last year was a fluke for the Redskins in my opinion.
The Steelers are healthy, they weren't last year.
The Steelers are at home and 2 of the Big Bs, Ben and Brown are chomping at the bit to attack Washington's suspect pass defence.
Steelers at home, big too!!
Steelers 34 Redskins 23
49ers vs Rams
I'm giving it one quarter to see what this brand of Chip Kelly foolishness in 49er uniforms will do.
The 49ers won't win on Monday night, because the stars have lined up for the Rams return to 'the City of Angels'.
Rams at home in this one.
Kaepernick takes a knee through the entire game in this one, randomly picking his 'Fro.'
Rams 23 49ers 17