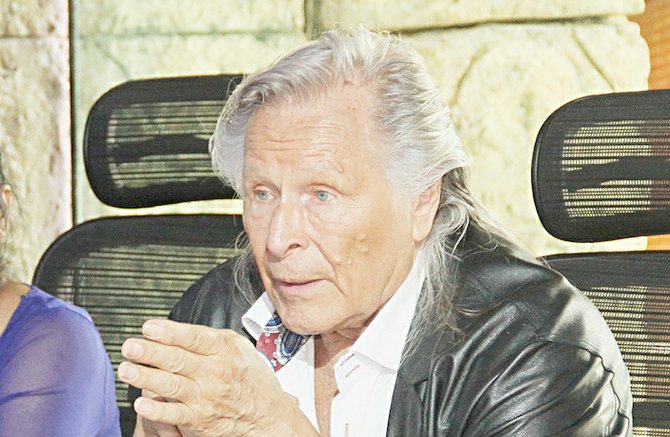 By AVA TURNQUEST
Tribune Chief Reporter
aturnquest@tribunemedia.net
THE contentious murder-for-hire lawsuit against Lyford Cay fashion designer Peter Nygard and lawyer Keod Smith is expected to start in the Supreme Court next week.
After months of controversy, the claims filed by several Save The Bays (STB) directors and a pastor will be heard by Supreme Court Justice Indra Charles for a default judgment as the defendants failed to enter a defense.
Yesterday, attorney Fred Smith, a STB director and plaintiff in the suit, said plaintiffs continue to receive threats of harm with no response from law enforcement.
"Despite our continuing complaints to police about harassment and threats of harm that were the focus of this action, police have never progressed any of the investigations that we ask them to," he said. "We remain anxious about our wellbeing."
"I have been extremely anxious about threats of harm to myself and family. I continue to live in fear as well as the other plaintiffs over the lack of official response from the police. The entire case was dramatically politicised by politicians in Parliament.
"Instead of appreciating that (the plaintiffs) were the victims, the government seemed to conflate itself with Mr Nygard's position," Mr Smith added.
The Supreme Court writ was filed against Mr Nygard and his former lawyer Keod Smith by STB Directors Joseph Darville, Romauld Ferreira, Fred Smith, Louis Bacon, and Reverend CB Moss, who is not a part of the STB.
They allege that the defendants orchestrated a two-and-a-half-year campaign of fear and violence to "kill or scare off" activists who Mr Nygard saw as opponents to development plans for his Lyford Cay property known as Nygard Cay.
Affidavits detail a yearlong investigation into claims that Mr Nygard contracted two criminals to allegedly harass, intimidate and cause physical harm and property damage to the four STB directors, Rev Moss, a government official and several others.
The two self-proclaimed criminals - Livingston "Toggie" Bullard and Wisler "Bobo" Davilma - were tracked down with the help of former FNM Chairman Michael Pintard, who resigned shortly after the court filing amid criticism from government parliamentarians that the claims were politically motivated in an attempt to destabilise the government.
The explosive allegations further rocked the nation in March when Prime Minister Perry Christie and Deputy Prime Minister Philip Davis' names were mentioned in secret recordings between Mr Nygard, Bullard and Davilma that were filed in support of the lawsuit.
Controversy heightened when it was further revealed that Leader of the Official Opposition Dr Hubert Minnis had met with Bullard three times; however, Dr Minnis has maintained that he did not hear of the alleged murder-for-hire plot until The Tribune published the claims.
The plaintiffs are seeking damages and a permanent injunction against Mr Nygard and Keod Smith restraining them from arranging any further tactics against them.
Both defendants filed an appearance on March 17, and were required to serve a defence on the plaintiffs within 14 days.
The application for interlocutory judgment in default of defence was filed on April 28.
The Tribune tried to contact Mr Nygard's legal counsel Elliot Lockhart, QC, for comment but did not get a response up to press time.
On March 29, Mr Nygard sued The Tribune, STB, as well as Dr Minnis and Mr Pintard, and others, for libel as well as "abuse" of the Supreme Court and Parliament.
Mr Nygard was seeking an injunction restraining 16 defendants from committing "further acts intended to harm or likely to harm" his economic or other legal interests and an injunction restraining the defendants from committing "further libel or slander" against him.
However, no statement of claim has been filed in that matter.