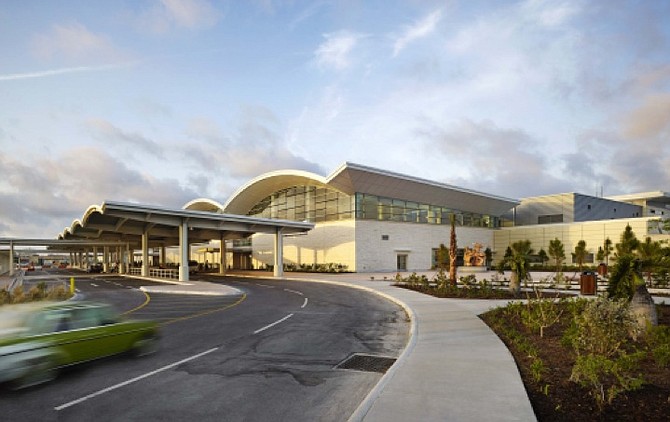 SATURDAY 1.25pm UPDATE: Minister of Transport and Aviation Glenys Hanna Martin has released the following statement on this morning's action by air traffic controllers at the Lynden Pindling Airport:
"It is with great regret that I inform the people of The Bahamas that air traffic controllers this morning refused for at least 2 hours to report to duty as a result of industrial action taken by BATCU.
"The dispute arises from concerns by the Union about a Security protocol that is executed by the Airport Authority mandating security screening of all personnel accessing the secured airside of LPIA, of which the Air Traffic Controllers were recently included.
"The inclusion of the screening of air traffic controllers is a direct mandate by the International Civil Aviation Organization which advised the Government of its imminent intent to post globally that this specific deficiency made LPIA a vulnerable aerodrome as it relates to security and noting that such action would seriously and negatively impact the economy and reputation of The Bahamas. These concerns were also documented by the United States Transportation Security Administration.
"As a consequence air traffic controllers are now screened through security along with all other personnel accessing the secure airside except on duty law enforcement officers.
"I personally undertook to the President this morning to cause for a meeting on Monday to discuss these concerns, however, the President was non-responsive and it was not until sometime later that the Union agreed to report for duty. I should advise that the Union advised in that meeting that if the outcome of Monday's meeting was not to its satisfaction similar damaging action will again be taken.
"During this unjustified industrial action national and international commercial air traffic to The Bahamas was negatively impacted for more than 2 hours.
"The following airlines were impacted:
Delta Airlines:
4 flights scheduled today; on average all flights delayed 3hours
All flights are primarily full and ninety percent of the passengers are expected to miss connections.
American Airlines:
Flight #4511 outbound to MIA delayed
Flight #4520 a 808hrs arrival to Nassau returned to MIA and was cancelled
Flight #4521 is delayed approximately 2hrs
Jet Blue:
Flight #2194/FLL cancelled with 90 passengers onboard
Flight #422/JFK is delayed approximately one hour
InterCaribbean:
Flight #271 delayed approximately two hours, 9pax onboard
Bahamasair:
Flight #201 delayed approximately four hours (730hrs departure – 56pax onboard)
"As a result of BATCU's industrial action, there were two cancellations to the scheduled morning flights. I am advised that on average, the remaining morning flights are delayed between 2 – 4 hours. Delta Airlines will be the only Carrier that is expected to experience delays in the afternoon. Delta, American and Jet Blue have indicated that there were large numbers of missed connections.
"I am advised that the impact on domestic carriers is as follows:
Southern Air – 1 flight delayed 2hrs
Sky Bahamas - 6 flights delayed an average of 2 – 3 hrs
Pineapple Air - 2 flights delayed to Haiti 2hrs
Western Air – 2 flights delayed 3hrs

Le Air – 1 flight delayed 3hrs
Flamingo Air - 1 fight delayed 3hrs
"I wish to assure the Bahamian people that the government will not compromise on securing LPIA in accordance with international standards and in our own national interest and I am calling on the Union to be responsible and proportionate in its actions so as to not cause undue harm to the Bahamian people."
End of statement
AIR TRAFFIC OPERATIONS at the Lynden Pindling International Airport were halted for nearly three hours on Saturday morning after air traffic controllers refused to participate in heightened security protocol ordered by a United Nations agency.
Newly-elected Bahamas Air Traffic Control Union (BACTU) president Hinsey McKenzie explaineded that members were protesting the new security policy that mandates controllers undergo extensive personal searches at security checkpoints.
He stressed that members did not take part in strike action but began their shifts shortly before 10am after a meeting with Airport Traffic Control management. The morning shift began at 7am.
"We came to the gate at 7am for the morning shift," he said.
"They wanted to search and we told them we were not prepared to do the search, this invasive search that makes you feel violated, all your food, bags get pat down and dug through.
Mr McKenzie said: "We had a meeting with management about 9am. We couldn't get any resolution so we said we'll let them pat us down until Monday. On Monday we have a meeting with the minister."
The International Civil Aviation Organisation (ICAO) is a specialised UN agency that sets global standards in the civil aviation industry.
The agency was recently in the Bahamas to conduct an audit, according to Mr McKenzie, who explained that the increased security measures were among recommendations presented by ICAO as critical for the airport to pass the inspection.
The new policy was implemented on May 13, with the condition for a review after 120 days, according to the union president.
Before the policy, controllers were only required to show their work identification card.
Now, Mr McKenzie said there are extensive security restrictions on what controllers are allowed to bring to work but no discussions on how to alleviate difficulties presented by the changes.