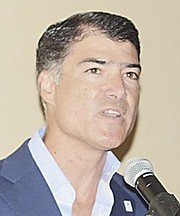 By AVA TURNQUEST
Tribune Chief Reporter
aturnquest@tribunemedia.net
BAHAMAS Bar Association President Elsworth Johnson yesterday defended the self-regulating body against criticisms of its decision to deny an application by the Bahamian law firm representing Sarkis Izmirlian to bring in a foreign lawyer to join their legal team.
Mr Johnson explained that all decisions were made after a thorough review of the application by the Bar Council and ultimately hinged on whether the expertise being sought could be locally sourced.
Insisting that the Bar was not a "closed shop", he said that he found it concerning that sensitive information from the organisation was published in a manner that jaundiced the role of the Bar Council and its work.
"Speaking generally," he said, "if one finds that there are senior persons, who pay bar dues, who are committed to the Bahamas, who are prepared to conduct themselves in the best interest of justice, then you don't allow others to come in. It doesn't make sense.
"As long as the Act remains as it is, if we have qualified senior Bahamians who can do the work then that's it, the applications will be denied.
"If the expertise is nonexistent in the Bahamas you can have someone called, sometimes you do have the expertise but in the interest of justice you may have someone like a Queen's Counsel called to do a case.
"That is in keeping with the immigration policy, that's what work permits are about. If you have a qualified Bahamian to do something then you allow that Bahamian to do it."
Last week, The Tribune reported on the Bahamas Bar Association's rejection of an application to import a foreign Queen's Counsel to join Mr Izmirlian's legal team.
However, the lawyer, Tim Prudhoe, is a British barrister and not a QC.
A copy of the letter - sent to the association by Ferron Bethell of Harry B Sands, Lobosky and Co, who is legal counsel for Mr Izmirlian and his firm Granite Ventures Ltd - was obtained by the Tribune.
In the letter, Mr Bethell alleges that the application was rejected verbally by Mr Johnson on August 25 as "not in the interest of justice".
Mr Bethell wrote: "In the premises, I would respectfully request that the Bar Council as a matter of urgency provide me with written reasons as to why the application was rejected.
"Additionally, I hereby put the council on notice to preserve and keep in safe custody all minutes and other documentation pertaining to this application and its resultant rejection."
Yesterday, Mr Johnson underscored that he did not make decisions on behalf of the council, adding that a new application has been made.
Mr Izmirlian is the original developer of mega resort Baha Mar.