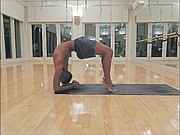 By JEFFARAH GIBSON 
Tribune Features Writer
jgibson@tribunemedia.net 
IMPROVING wellness in the Bahamas through education is the aim of the Eye on Health seminars presented by Solomon's Fresh Markets.
The seminars, which started nearly three years ago, feature presentations on a wide range of topics and themes that speak to how lifestyle and dietary changes can be used to help manage, prevent and even treat many common ailments and conditions.
The next seminar to be held on Saturday at the Old Fort Bay location will put a spotlight on yoga as a tool to heal the body and calm the mind.
The seminar will be hosted by Mychal Bryan, Bahamian yoga instructor and owner of Cosmosis Yoga Suite & Cultural Hub. It will run from 4pm to 6pm. 
Over the past five years, Mr Bryan said, interest in yoga has grown tremendously in the Bahamas and more people are coming to sessions each day. The method of yoga that he practices and seeks to live by is the method outlined by BKS Iyengar, founder of the Iyengar Yoga, a form of Hatha yoga that has an emphasis on detail, precision and alignment in the performance of posture and breath control.
"The reality is that there are many forms of yoga in the world today, but not all styles and systems focus as specifically on healing the body and mind through the integration of posture, intelligence, breath, and alignment as the method outlined by Iyengar," said Mr Bryan.
Through his Cosmosis Institute, he seeks to share and educate the Bahamian people about yoga. 
"I feel it is my personal charge to show people the ways in which yoga is more than a fitness endeavor, more than a gym work-out, but an actual approach to life that can really transform your relationship to your body, mind, and to the world at large," he said.
"Popular yoga in the world today is what Mr Iyengar has called 'jumping yoga'. And it's the truth. Most yoga today is jumping, vigorous, and sometimes downright harsh on the body. Not everyone can do that. One of the greatest lessons I've learned since studying Iyengar yoga wholeheartedly is that it doesn't matter what you teach, but how and to whom. Most yoga teachers today get stuck at the point of what they teach and have no concept at all of how something should be taught or to whom it may be applicable. The reality is that the triangle pose that you will use to heal lower back pain is very different from the triangle pose that you will use to heal neck pain, which is very different from the triangle pose you will use for someone who is menstruating. These aren't things that most people are exposed to when they first are exposed to yoga, and they leave feeling as if yoga wasn't for them because they didn't find a teacher who knew how to provide them an experience of yoga that matched the reality of their lives," he told Tribune Health. 
Mr Bryan believes this Saturday's seminar will be especially beneficial to those looking for alternative methods to healing pain they may be experiencing. 
"I think this will be beneficial because people need to know how yoga can help them lead better, happier, more fulfilled and pain-free lives. Anyone can learn yoga. The yoga that I teach to my 79-year old diabetic grandmother is different than the yoga that I teach to my 28-year old flexible and agile student. At Cosmosis, our intention is to share with people a yoga of correct application, so that people can know an have the tools to take them to their highest goals for themselves in the most intelligent and safest way possible. This is what I know people will gain from coming out to learn with us at Solomon's Fresh Market this weekend," he said.