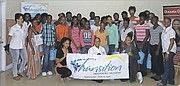 By ALESHA CADET
Tribune Features Reporter
acadet@tribunemedia.net
Duquesa Dean this summer continued with her chosen mission to assist the country's youth in their social development.
Her Transitioning Mentoring Program (TMP), in conjunction with Mario's Bowling Palace, recently invited teens to attend the Polished Etiquette Seminar.
The one-day interactive and educational event sought to build confidence, self-esteem, dignity and personal character.
Ms Dean first embarked on her mission two years ago. She said she believes programmes such as this one and others like Junior Achievement, Rangers and various youth organisations help to fill voids for teenagers and also aid in social development.
The like-minded individuals who make up TMP take on tasks like providing assistance with resumé building and coaching for interviews, directing students to participate in wholesome youth programmes, and more.
Shenika Johnson, public relations officer at the TMP, said the recent summer etiquette seminar hosted 90 teens and was deemed a success.
The kids, she said, brought their personalities and all their questions about life's mysteries and miseries to the event.
"The skepticism was obvious; why were they here on a Saturday and early in the morning? What could you teach me that I didn't already know? But less than an hour later, somewhere between the ice breaker and an introduction to the seminar, the room was filled with energy and the teens were getting more involved, raising their hands to be called on and some not even waiting to be called upon," said Ms Johnson.
She said they learned the value of saying please and thank you, sitting up straighter, standing up taller, and looking at each other instead of the floor. 
"We discussed rude behaviour and reiterated what's polite and what's not. We shared with them the importance of how to express themselves the right way, whether to their parents, friends or teachers, and how to be open and honest with them when they feel that they have made them uncomfortable or unhappy," she said.
Ms Johnson said she believes it is important for TMP to teach the youth about their feelings; what it is they are feeling, how to decipher their emotions and how to express them.
Moreover, during the etiquette sessions the teens shared some intimate experiences, and the TMP team was able to provide guidance and suggestions on how to handle certain situations.
Nakera Symonette, former Miss Bahamas, was a special guest lecturer. She spoke about knowing and having a strong personal brand, dress code and society perception. 
"This is a big issue with our teens. They want to be in style, wear what the crowd or what the popular person is wearing, not realising that some things are not the right fit for them or their character. The sessions were to teach and enlighten the teens on what to look forward to as they mature," said Ms Johnson.
During a table manners session, Ms Johnson said the kids were taught the importance of making a good first impression.
She said after each session the participants walked away with a smile and a new attitude.
The TMP team hopes to make the Polished Etiquette Seminar an annual event. For more information visit the programme's Facebook page, "Transition Mentoring Program".