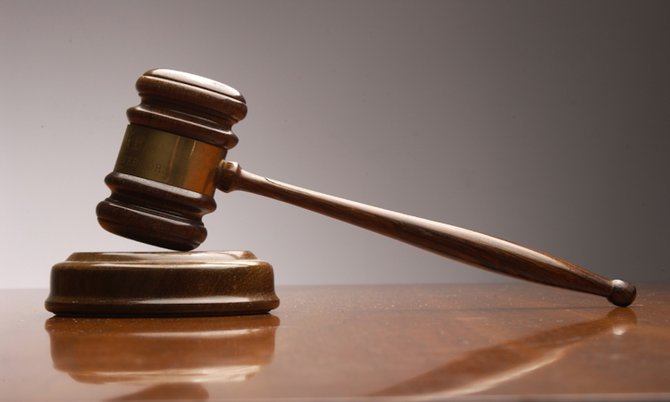 By LAMECH JOHNSON
Tribune Staff Reporter
ljohnson@tribunemedia.net
A MAN returned to his apartment after stabbing his girlfriend multiple times to tell her he loved her, a Supreme Court judge heard from a probation officer yesterday.
Reuben Baker, 32, appeared before Justice Deborah Fraser for the penalty phase of his trial concerning the November 16, 2014 murder of Carmine Jean.
Jean was involved in an argument with her boyfriend at their home on Alfred Way off Winders Terrace. She was stabbed twice in the upper back, once in both shoulders and once in the abdomen.
Sagina Pratt, a probation officer with the Department of Rehabilitative Welfare Services, testified yesterday about Baker's recollection to her of the events that led up to the stabbing.
After the probation officer disclosed that Baker had returned after stabbing his still alive girlfriend, Justice Fraser asked the probation officer if he told her why he didn't get help.
"When I spoke to him I asked him why he didn't call for help. He said he didn't know, he was scared and frantic," Ms Pratt said.
Baker, alias Duran, was unanimously convicted by a jury in May of intentionally causing Jean's death.
Ms Pratt was questioned by Baker's lawyer, Michael Hanna, about his admission of guilt for what occurred on the day in question.
"He told you he's guilty and gave you an account of what happened?" Mr Hanna asked.
"The second time I went to interview him, he relayed to me that he initially he did not want to tell me in the first interview but this is the first time he'd been in this type of trouble before," the probation officer said.
"Over a period of three days he relayed how the incident laid out. He said he'd apologised for what he did and was remorseful for his actions. He himself is mourning over her death," Ms Pratt added.
"Did he say anything about the mother?" Mr Hanna then asked.
"He spoke about her family generally. He did sympathise with the family and indicated he wanted to express his apologies," the probation officer said.
Ms Pratt said Baker claimed he could not recall committing the offence.
"He witnessed a hickey on her neck," Ms Pratt said. "He was upset about it and she denied having any extra relations outside of their relationship. But he'd gotten over it three days later. There was a wedding to be held and the following day was her birthday. He had a basket made for her to present at the wedding and his intention was to ask her to marry him.
"When he arrived to the wedding, he saw her dancing inappropriately with another man and they argued about in the car when they left. It continued when they arrived at home. He doesn't recall how he retrieved the knife but he'd taken her into the bedroom when the incident occurred. He left and went to his car but came back. He held her in his arms, told her he loved her and went to his mother's house," the probation officer added.
Mr Hanna asked the probation officer if his client had any prior convictions.
"There are no convictions based on info from the Criminal Records Office," the probation officer said.
Crown prosecutor Randolph Dames made an application to Justice Fraser for the victim's mother and sister to give an impact statement to the court.
The judge allowed the application.
Santana Jean, mother of Carmine Jean, told Justice Fraser that her daughter was a sweet person.
"I never had (a) teacher ever call me to school for (a) problem," she said.
"He (Reuben) take Carmine away from me. I hurt. Every day I cry. She's gone now for 22 months and I still crying. That's my baby. That hurt me," an emotional Ms Jean added.
Tashana Valsaint described the loss of her sister as a "living nightmare".
"Me and my sister had a good relationship, an open relationship. We could talk to each other about anything. She was a very happy and sparkling person. Life hasn't been the same at all after Carmine (died)," she said quietly.
The hearing resumes on September 19.