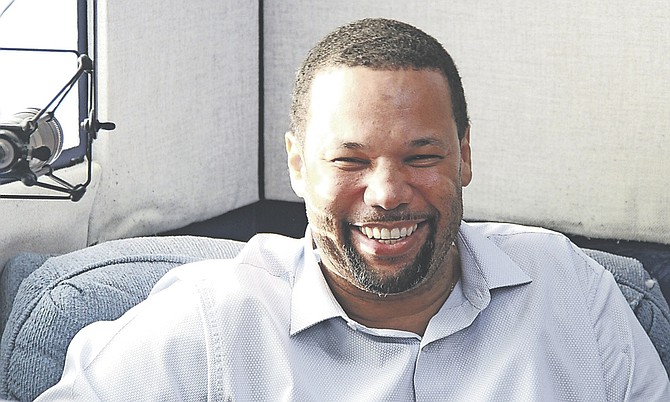 By RICARDO WELLS
Tribune Staff Reporter
rwells@tribunemedia.net
LONG Island MP Loretta Butler-Turner could face an independent challenge by Fort Charlotte MP Andre Rollins if voters on the island urge him to do so, the controversial politician said yesterday.
His threat came hours before the Free National Movement (FNM) announced it had ratified Mrs Butler-Turner as its standard-bearer for the constituency in the next general election.
Dr Rollins made his comments while appearing as a guest on the Ed Fields Live talk show, with host Rogan Smith and co-host Tosheena Robinson-Blair.
Speaking to Mrs Butler-Turner's representation in her constituency, Dr Rollins claimed that voters in Long Island are at their wits' end with the MP.
He also insisted that if Dr Minnis stays true to his words, and allows the voters in Long Island to have their say, they would opt for new representation.
"It would not be Loretta Butler-Turner that the people of Long Island are calling for, they will be calling for someone else," Dr Rollins said. "I know Long Island is deep south, and the journalists don't get a chance to go on the ground in Long Island. But you allow the journalist to go on the ground in Long Island and find out if they feel a connection to Loretta Butler-Turner.
"I am saying that not out of any personal animosity towards her, I am just letting you know (what) the feelings of the people I am interacting with in Long Island are. And the reality is that they are not asking the party to return her to Long Island. And I think that if you really wanted to know what is going on down there, you shouldn't take second hand information, you go for yourself and find out what they are saying," he added.
On Thursday, The Tribune reported that Dr Minnis and party executives were expected to endorse Mrs Butler-Turner next week during a town meeting in Long Island.
However some on the island have said they do not want her as their candidate.
Earlier this month, former Cabinet minister Tennyson Wells told The Tribune that he instructed a group of voters in Long Island to draft a petition for Mrs Butler-Turner's removal if they truly wanted another candidate.
Mr Wells said this group approached him for counsel during the most recent regatta on the island where he advised them that the most effective way to get the party's attention was to gather as many signatures as possible to prove that she is no longer supported.
Yesterday, Dr Rollins said if the voices of voters are ignored, and Mrs Butler-Turner is installed as the candidate, he would not be afraid to launch an independent bid.
"The voters of Long Island, ultimately, I expect will have an opportunity, maybe as soon as next week to be heard as far as what they would like to happen as far as the FNM. If their voices are ignored, if they are not given the opportunity to be heard, then the discussion will open it to something larger," he stated.
"Whether having been ignored, if that happens, whether they would wish to exercise their choice in what will amount to a form of primary where they will chose their preferred candidate in a general election who may happen to be an independent, who would yield to their direction by joining the party that they support as they enter the House of Assembly," added the Fort Charlotte MP.
"If the people of Long Island instruct me that that is what they want, then I will of course yield to their instructions. But I doubt that they will ask me to remain independent. Ultimately the people of Long Island are Free National Movement supporters in the main. There are many who believe Long Island has been ignored. That it has received nothing but empty promises and they believe that Long Island is long over-due for the attention that it has lacked since the first FNM administration, 1992-1997.
"I can assure you, for people who know that I am a bold politician, I am not afraid to embark on this particular journey. Let there be no mistake. I am not afraid to embark on this journey, but if the Free National Movement ignores the voices of the people in Long Island, they do so at their own peril.
"If they are ignored and they tell me that they want me to give them another option, I will march to their tune and I will put myself in position to allow them to use me as a vessel to affect the kind of change to ensure that Long Island (is not) ignored and that it takes its rightful place in the political establishment in this country."
It has been speculated for months that Dr Rollins was shoring up support in Long Island for a potential election bid there.
In February, The Tribune reported that Dr Rollins was seen on the island "making rounds in an attempt to garner the support of the party," according to sources.
Dr Rollins has previously said he would not seek a nomination from the FNM after Dr Minnis retained his leadership post at the party's convention in July. However on Monday, he changed his tune, saying on Ed Fields Live that he would consider a nomination from the party if offered one by Dr Minnis.