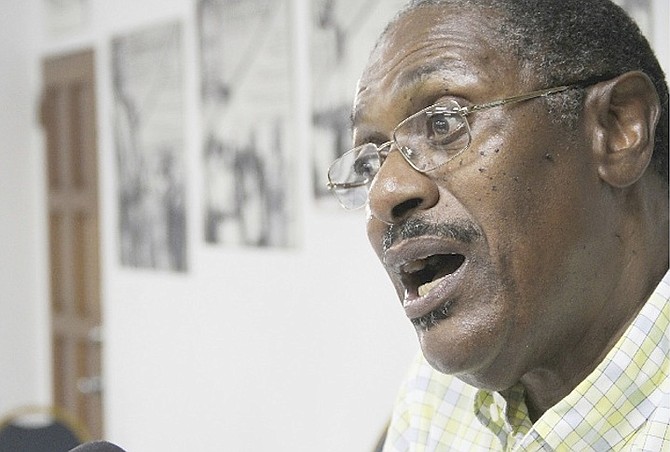 By KHRISNA VIRGIL
Deputy Chief Reporter
kvirgil@tribunemedia.net
BAHAMIANS are pleased with the leadership of Prime Minister Perry Christie, insisted PLP Chairman Bradley Roberts yesterday, as he dismissed a recent survey that pegged FNM Leader Dr Hubert Minnis as the most favourable political figure over nearly a dozen other politicians in the country, including the nation's leader.
This new survey also claimed that the results showed PLP leadership challenger attorney Alfred Sears to be more preferred than Mr Christie and marks Mr Christie as one of the least favoured figures, according to a local daily.
Pointing to polling done before the June 7 equality referendum carried out by Public Domain, the administrator of the poll, Mr Roberts insisted: "They have a long way to go before they can gain my credibility".
He was referring to a March survey conducted by the company, which specialises in customised market and opinion research services, where 1,003 Bahamians were polled. The results showed strong support for each of the four referendum bills. Ultimately, all of the four questions of the referendum were overwhelmingly rejected.
Mr Roberts said: "We are talking about a poll by the same people who conducted the poll on gender equality. They said the bills would pass, but we know what the results of that referendum were.
"If they could be that far off base, then I conclude that they have some ways to go to reach some level of respect in my books. They are lacking credibility."
Asked if he believed Bahamians were pleased with the PLP government, Mr Roberts said it was easy to judge by the turn out of supporters at his party's events when compared to those of the FNM.
"When the PLP has its nominations (of candidates), we have large numbers of people, a lot of whom are young people. When you look at those attending the FNM events they often have less than we do.
"I do think that people are pleased with the work that Mr Christie has done. In 2012 we were in an economic wheelchair. The government has been able to use its influence in working to resolve the Baha Mar situation. Unemployment numbers will drop with that."
According to the results published in The Nassau Guardian yesterday, respondents were asked to state, on a 10-point scale, whether they believed certain public figures would make a good prime minister.
Although there seemed to be low support for each of the 11 personalities presented in the survey taken by 1,000 people, Dr Minnis edged all others out with highest mean score of 5.1.
Long Island MP Loretta Butler-Turner and Democratic National Alliance (DNA) Leader Branville McCartney were next, both collecting an average of 4.9, the survey results said.
Mr Sears, who is also the PLPs Fort Charlotte candidate, West Grand Bahama and Bimini MP Obie Wilchcombe, Fox Hill MP Fred Mitchell and United Democratic Party (UDP) Leader Greg Moss all followed closely behind with scores of 4.8, 4.7, 4.6 and 4.4 respectively.
In the lower rung of averages was Mr Christie with 4.3, Marathon MP Jerome Fitzgerald with 4.2, Deputy Prime Minister Philip Brave Davis at 4.1 and former FNM Senator John Bostwick with an average of 3.7.
Earlier this year in March, Public Domain conducted a poll of 1,003 Bahamians on the controversial equality referendum.
Of the sample group, 76 per cent said they would support bill one, which sought to allow a child born outside of this country to become a citizen at the time of birth if either their father or mother was a citizen of the Bahamas by birth.
Bill two would have allowed a Bahamian woman married to a foreign man the right to secure for her husband the same access to Bahamian citizenship as a Bahamian male has in relation to his foreign wife.
On this proposed constitutional change, 57 per cent of those surveyed said they would support it.
Bill three, which sought to grant any unmarried Bahamian man the right to pass on his Bahamian citizenship to any child he fathers with a foreign woman with proof of paternity, got 78 per cent, according to the poll.
Bill four, which was regarded as the most controversial, sought to prevent discrimination of any type based on sex – being defined as being born male or born female.
The results found that 68 per cent of the likely voters said they would support this.