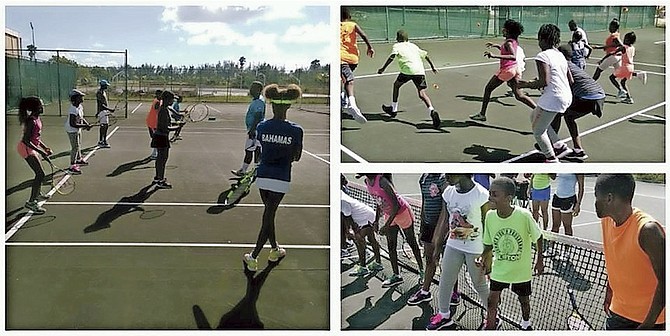 ON Saturday, The Bahamas Lawn Tennis Association (BLTA) held a Junior Tennis Clinic at the National Tennis Centre, Queen Elizabeth Sports Centre. 
The $1-Day Clinic was a success as kids ranging from four to 14 years were introduced and, in some cases, reintroduced to the rudiments of tennis.
Supervisor of the clinic, Barbara Carey organised the play and stay session.
Coach Kevin Major led the children in various drills. Also on hand were some of the country's top juniors - Afrika Smith, Donte Armbrister and Sierra Donaldson. These youngsters who are returning from an International Tennis Federation (ITF) tour this summer were able to assist coach Major in instructing the kids on their forehands and backhands.  Kristen Major and Dentry Mortimer also took the time to assist with the younger kids.
"Some of the children at the clinic never held a tennis racquet before so this initiative by the BLTA will surely produce some new talent to the sport. 
"Many of the kids expressed the sentiment that they always wanted to play tennis.  The sport is seen as very exciting. The young  boys and girls at the clinic took great delight when they had an opportunity to play 'one on one' with their junior instructors," said a press release.
The $1-Day Jr Tennis Clinic will continue 9am to 10:30am this Saturday at the NTC. 
Kids aged five to 14 years old are invited. All kids who are interested in tennis and want to get a start are kindly invited to come and be a part of this clinic.
The BLTA continues its efforts to grow tennis in The Bahamas. The future looks bright for this vibrant sport.