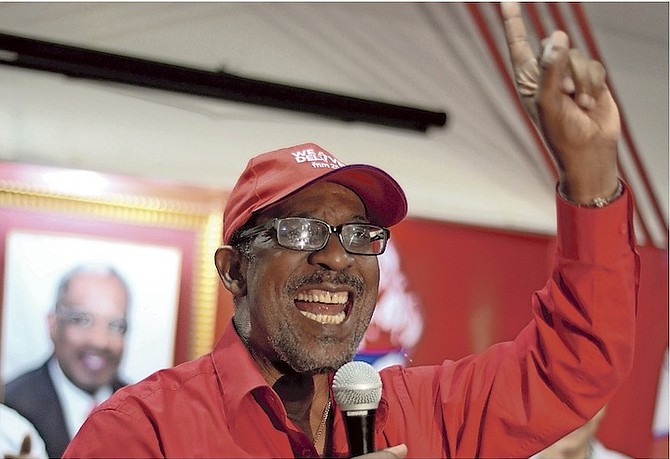 BY SANCHESKA DORSETT
Tribune Staff Reporter
sdorsett@tribunemedia.net
FREE National Movement Chairman Sidney Collie said yesterday that despite the party throwing its full support behind Loretta Butler-Turner, the Long Island MP has "a lot of work to do" to win over her constituents before the next election.
Mr Collie told The Tribune that while in Long Island over the weekend with FNM Leader Dr Hubert Minnis and other party executives, he heard "rumblings" of dissatisfaction. He said party executives were approached by persons who said they no longer supported Mrs Butler-Turner.
"We went to Long Island for two reasons, the first was to throw our full support behind Mrs Butler-Turner and the second was to show persons that we did not just talk about unity, but we are showing that we are actually unified," Mr Collie said.
"At the town meeting, Loretta supporters were there, the programme went smoothly and we had no interruptions or embarrassment. There were rumblings on the ground and pockets of opposition. There were some people on the site who also voiced their opposition to us, but we think she still has good support. The leader and the party leadership believe that she is a true member of the team and we want to make it clear that the party supports Loretta Butler-Turner for the Long Island seat.
"That is not to diminish the perception that I, along with others, got the impression that there is a lot of work for (her) to do. I am not going to get into specifics, but she has to mend fences because there is a long road ahead of her."
Mr Collie confirmed that Fort Charlotte MP Dr Andre Rollins was in Long Island at the time of the meeting, but said that Dr Rollins has not told him or the party that he intends to run independently in that constituency.
"Dr Rollins was there, he walked about and talked to people," Mr Collie said.
"We are aware of the rumour on the ground that he is running as an independent candidate. He is a sitting member of Parliament for Fort Charlotte. We went there to support Mrs Butler-Turner. He has not said anything to me personally or the executives of the party as far as I know."
On Tuesday, Mrs Butler-Turner accused Dr Rollins of attempting to "take over" the FNM's town meeting by bringing his supporters to the event organised by the party to officially endorse her.
She told The Tribune that Dr Rollins came to the meeting with a "handful" of people who began campaigning for him to be the next representative for Long Island.
However, Mrs Butler-Turner said Dr Rollins and his group were outnumbered by her supporters and his attempt to "hijack" the event "fizzled".
Mrs Butler-Turner said the meeting went so well that she is "even more convinced" that she will be re-elected, despite reports that she was heckled and booed at the rally by a faction of FNM supporters who claim the party is imposing her on the constituency against their wishes.
Last week Dr Rollins, a member of the FNM, said he would challenge Mrs Butler-Turner as an independent candidate if the voters on the island urge him to do so. He also said residents there were not satisfied with her representation.
His threat came hours before the FNM ratified Mrs Butler-Turner as well as Mark Humes for Ft Charlotte.
The party is working to repair its image after a contentious three-day convention in July, which saw Mrs Butler-Turner drop out of the leadership race against Dr Minnis hours before delegates were going to vote.