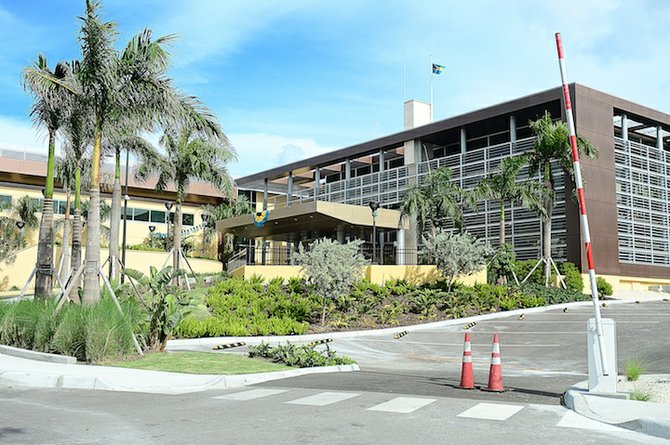 By DENISE MAYCOCK
Tribune Freeport Reporter
dmaycock@tribunemedia.net
PRIME Minister Perry Christie said yesterday that compressors needed to fix a malfunctioning air-conditioning unit in the $100m Critical Care Block at the Princess Margaret Hospital should be in the country by the end of the week.
Mr Christie said the air-conditioning unit failed when four of six compressors were hit by surges after a power outage, and questioned why the necessary equipment to counteract this was not installed by the Ingraham administration and former Minister of Health Dr Hubert Minnis.
Mr Christie spoke about the problems facing New Providence's public hospital while in Grand Bahama for the signing of contracts worth about $4m on Monday for major improvements at the Rand Memorial Hospital (RMH) in Grand Bahama.
On Sunday, Dr Minnis, FNM leader, said the malfunctioning units have stalled surgeries at the hospital for the past two weeks, something he called "unacceptable."
Mr Christie appeared upset about newspaper reports about the issue yesterday.
"When I saw headlines in the newspaper which said 'PMH on its Knees,' I realised as prime minister I have an obligation to respond regardless to the effort or lack of effort by the health minister or ministers," Mr Christie told a crowd gathered for the contract signing.
"And I also recognised in the circumstances of health, one has to be careful with respect to politics."
Speaking about the equipment, he said: "Prime ministers don't ordinarily get to hear about these things, but once he hears or reads he must find out. And there is nothing bad about the truth. This is a new facility; why would this $100 million enterprise all of a sudden fail?
"I was advised that there were power outages in New Providence and when the power is reconnected the powerful surges knocked out the compressors. That's what the prime minister has been advised. Yes, there were weather implications and we were helpless to going out there to see what you could do. But fundamentally, we own the power station. Therefore, ultimately we have to bear the responsibility for that," Mr Christie said.

He assured the public that the new compressors were ordered and should arrive in the country by the end of the week.
The prime minister noted that health officials have ordered a surplus number of compressors and have also put in surge protectors.

Mr Christie questioned why surge protectors weren't initially installed under the FNM, and said Dr Minnis should be "very careful with respect to matters like that."
"He speaks about the authorities committing to improve the Maternity Ward where women without means have their children," Mr Christie said. "Really, I can't say what he said, I don't want to mouth what he said, but it is a political attack.
"He said the PHA won't listen to the doctors who said don't fix it now, fix it later because people are having babies now and after the Christmas they might not have. That is how I interpret what he said."
He was referring to comments Dr Minnis made to The Nassau Guardian on Sunday when he called on the government to delay planned renovations to the Princess Margaret Hospital's Maternity Ward until a "suitable time," due to the number of babies born at this time of year and concerns that the work could cause issues.
Mr Christie said: "I just want to make this point; we are here today because we are intelligent Bahamians. We have responsibility to govern; we are not going to jeopardise people's health by rushing through construction and compromising the quality of care, we are not going to do that."
Mr Christie recalled that when the PLP won office, and when Dr Minnis demitted office as minister of health, he left the maternity ward "in a state not fit for women to go and have babies."
He also noted that one of the operating theatres was "so bad" it was only used in an emergency.
"His government (under Hubert Ingraham) made a major commitment in the Critical Care Block Intensive Care surgery facility and committed it, we came in and we finished it. We knew we had to modernise the hospital plant," Mr Christie explained.
The government, he said, commissioned the BECK Group, an international planning firm now headed by a Bahamian, for an overall vision and plan for Critical Care Block at PMH. He said the group is also now working in Grand Bahama, and has been commissioned to prepare a plan for the entire hospital plant in New Providence.
"Once you spent $100m on the Critical Care Block it means you can't go to no new site to build a new hospital, it means you are stuck with the PMH being where it is and renovations have to take place there," he explained.
Mr Christie said that healthcare has improved immeasurably in the Bahamas, and the government has created a two-tier plan to improve conditions of all health care facilities in the country.
"We have to improve the conditions under which people are hospitalised for NHI. I said that I am not going to charge people rates for NHI until they can appreciate what they are paying for. Therefore, government will continue to pay for improvements at PMH, RMH and clinics all over the Bahamas. We are going to put our resources behind that to bring them up to quality and standards we would wish."
The government will execute a major contract with respect to the renovation of PMH's Maternity Ward, Male Surgical Wards and Legacy Entrance on Wednesday.
Yesterday, Mr Christie said the planned upgrades for the Rand Memorial Hospital show his government is committed to the continuing modernisation of existing health care facilities, and starting the first phase of the new state of the art hospital in Grand Bahama.
"We are fixing up what exists; we are fixing up the Rand," said Mr Christie. "In addition, in November, we committed ourselves to the first phase of a new hospital in Grand Bahama."
The improvements at the Rand will be carried out by Landstar Construction, which has been awarded a $2.3 million contract for major upgrading of the kitchen and cafeteria, and Pinnacle Investment received a $1.6 million contract for construction of a new corridor area.
According to Mr Christie, the first phase of the new medical facility to be built in Grand Bahama will provide services that also includes oncology.
He indicated that it is necessary for the old hospital to be fixed concurrently while having to build new facilities in Freeport and New Providence.
Mr Christie said: "So when we fix the Maternity Ward, we know that plans are being drawn for a new centre to be a Critical Care Block for women and children - that is going to happen."
More like this story