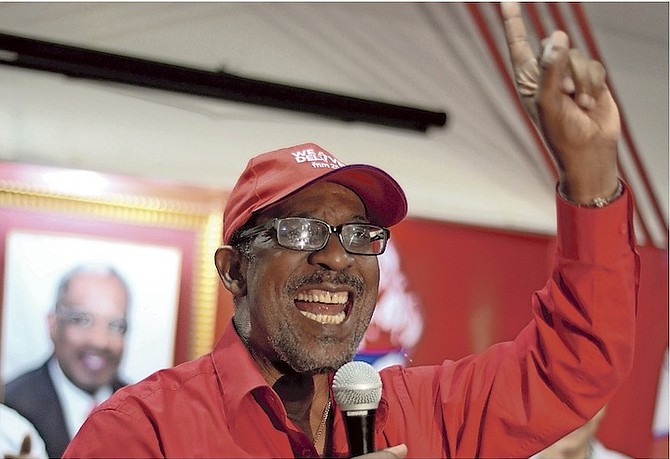 By AVA TURNQUEST
Tribune Chief Reporter
aturnquest@tribunemedia.net
FREE National Movement Chairman Sidney Collie yesterday condemned this year's Junkanoo Carnival as a "completely mismanaged event" after it was revealed that the annual festival was again over budget for the second time.
Highlighting the stalled release of the economic impact report, Mr Collie underscored the critical need for increased transparency from government officials.
He said the Christie administration's widespread failures were crippling the tourism industry and chasing tourists away.
"It has taken months for this government to release the 2016 Bahamas Junkanoo Carnival's Economic Impact Report to the public, and the findings are just one more example of why we need more transparency from our government," he said.
"The 2016 Junkanoo Carnival was a prime example of a completely mismanaged event . . . over budget and short of the promised economic benefits. Sadly it is what Bahamians have come to expect from this government – lots of empty rhetoric and broken promises."
He continued: "Their continuing failures are hurting our economy - failure to root out corruption, failure to offer concrete solutions to fix the economy, failure to address the growing crime epidemic. This madness is chasing tourists away and crippling our tourism industry."
The total spend on the 2016 event was $9.8m, with a government subsidy of $8.1m, Bahamas National Festival Commission (BNFC) officials said.
Ahead of the event, it was estimated by BNFC Chairman Paul Major that the government would spend about $7m to host the festival.
The event attracted $1.2m in sponsorship while ticket sales and "other revenue" accounted for $578,342.
The FNM chairman took aim at Tourism Minister Obie Wilchcombe, whom he accused of publicly stating his confidence that the festival would stay on budget this year.
He claimed that the revelation was magnified by the fact that the national gross domestic product dropped by $10 million this year compared to 2015.
"The failure of this government has resulted in a 7 per cent year-over-year decline in peak winter room revenues," he said.
"All this contributed to our current economic struggles that are plaguing our country and all coming in the wake of a rating agency downgrading our credit, as well as the continuing debacle of the Baha Mar saga.
"We should see this report as another clear example of why we need to have transparency – because only when the people have access to the information about their government can they hold them accountable."