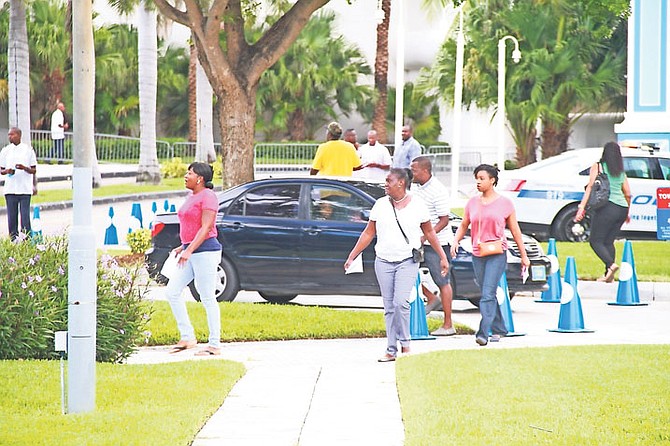 By NICO SCAVELLA
Tribune Staff Reporter
nscavella@tribunemedia.net
WHILE some former employees of Baha Mar yesterday expressed no disappointment in receiving their settlement sums from the beleaguered resort, others complained of the low amount offered as part of the resort's Claims Committee payout process.
A number of former employees suggested to reporters that they were satisfied with the amounts they had received during the first day of the Claims Committee's payout exercise at the Crystal Palace Hotel Casino yesterday.
None of the employees questioned by reporters at the site gave any signs of discontent over a potential discrepancy with the amount they received and the amount listed on their termination letters.
However, one former employee who spoke to The Tribune later said while the process "went pretty smooth," he felt that former employees "should have been paid more".
The former worker, speaking on condition of anonymity, also said it wasn't clear what the payout represented, and also that nothing was mentioned about pension payments.
The employee was also angered by a release document employees had to sign to receive their cheques, which said upon receipt of the payout, they would not make a claim against Baha Mar or Perfect Luck Ltd, the special purpose vehicle set up for this exercise.
The employee, who first worked for Baha Mar's Leadership Development Institute (LDI) and later for the Grand Hyatt Hotel, also said when he sent an email to the Claims Committee about his concerns, he said he was informed that he "should be happy with what I got and that it is on a take it or leave it basis".
That, he claimed, came after he was told by the Claims Committee last Thursday that he could review his payout letter with a lawyer, but thought it was too short notice to do so.
"How can somebody find a lawyer in that space of time and see if it's accurate and then you have to go and pick up your cheque?" he said. "(They gave me) about four to five days to find a lawyer."
"I was distraught by it," he added. "I (had) been working under a company for the past year or so and I am not obligated to get what is owed to me. One of my aunt's friends said she heard someone only got $500. Some were expecting more to be able to get a car or go on vacation."
The former employee added: "I heard the prime minister say this is a gift from the (China EXIM Bank). My whole issue is, it's like he is saying to us if you don't take it that's your business, we are giving you a gift, it's his way of saying take it or leave it. Election is coming up, so he will say 'I've paid you guys back and created jobs, construction has restarted, now pay me back with another five years.' I for one will not have it."
Another former Baha Mar employee, in a Facebook post, criticised the payout process, charging that former employees may be setting themselves up for "most disappointed and unfulfilled promises" by Mr Christie.
Meanwhile, Darren Brown, a former butler for the departed Rosewood Hotel brand, said he had no hiccups during yesterday's payout process.
"It was very, very smooth and I didn't expect it to be like this," he said. "The moment I arrived at the entrance I was directed where to go, and everything flowed really, really smooth. They explained the procedures to you very, very clear, and it was quite easy."
When asked if he was satisfied with the amount he received, Mr Brown said: "I'm totally comfortable. This was something that didn't have to happen, you know. And it did. So there is no way you can be disgruntled over getting a gift. All good gifts are from the Creator, and so you receive with graciousness."
Gavin Cartwright, who was previously engaged in bartending at the resort, also heralded the process.
"It was good, it was quick - quicker than I expected," he said. "I expected a long line or so, but it was quick. (I was) in and out actually. I was only in there for five minutes."
Regarding his feelings towards the cheque he received, Mr Cartwright said: "I'm satisfied, I'm not going to lie, I'm satisfied."
On Sunday, Claims Committee Chairman James Smith advised employees not to worry if payments did not match the amount listed on their redundancy letters. He urged workers with discrepancies to bring in the letter they received from the resort's human resources department upon their termination as the committee was prepared to deal with any dispute.
However, the Claims Committee has previously responded to queries from Baha Mar's former Bahamian staff by reminding them that they have little choice but to accept what is on offer this week.
The committee has said that while it is "happy" to discuss their issues, the former employees have "no legal entitlement" to any of the funds the committee is administering. Thus, it said, the offers that are made to them are on "a take it or leave it basis."