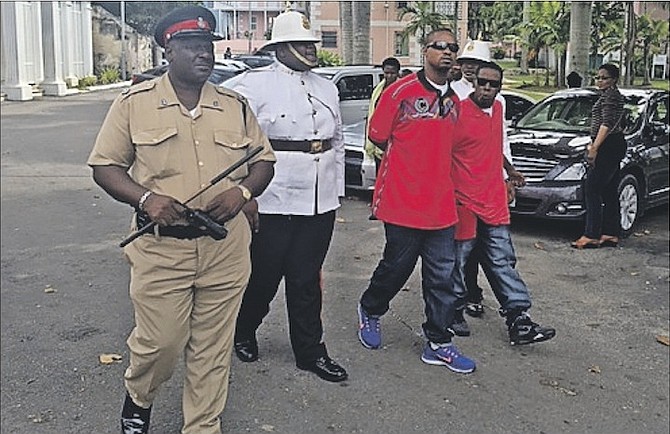 By LAMECH JOHNSON
Tribune Staff Reporter
ljohnson@tribunemedia.net
TWO men were sentenced to 30 years in prison yesterday after a Supreme Court judge condemned their "casual" acceptance to involve themselves in a murder plot.
Rashad Sullivan and Patrickedo Rose, both 26, appeared before Justice Bernard Turner to learn what punishment would be handed to them concerning the November 2012 murder of Dario "China" Knowles, 25, at Lincoln Boulevard.
Last December, a jury returned 10-2 guilty verdicts on conspiracy to commit murder and murder. The latter verdict was not accepted by the court.
Justice Turner yesterday said that the jury's verdict on the conspiracy charge was an indication that the panel accepted the evidence that they entered into a plan to kill the deceased.
The judge acknowledged that both convicts had mitigating factors in their favour, including their age, lack of antecedents and "similar histories."
He said that notwithstanding that there was no evidence of educational achievement, "they were each gainfully employed prior to the commission of the offence."
"They each expressed remorse for the loss of life notwithstanding they maintain their innocence.
"I do, however, consider both to be a danger to society considering their casual approach to accept and enter a plan to commit murder," the judge stressed, noting that this was the most aggravating factor against them.
"The sentence imposed must act as a deterrence to anyone willing to act in a similar fashion."
Keeping in mind the Court of Appeal decision of Larry Raymond Jones, which outlines a 30 to 60 year sentence range for murders undeserving of the death penalty, and that conspiracy to commit murder is treated as the actual offence, Justice Turner said there was "nothing mitigating to take them below the lower range nor are there any aggravating circumstances to put them at the higher end of the scale."
While noting that they should each be sentenced separately according to their respective role in the case, the judge said that "there is nothing about the culpability to sentence them to a different term of imprisonment."
Both were sentenced to 30 years imprisonment.
Because they spent four calendar years up to yesterday's date behind bars, which the judge rounded to six prison years, Rose and Sullivan will serve 24 years at the Department of Correctional Services after taking into account time served.
They were advised of their right to lodge an appeal to the appellate court.
Glendon Rolle, lawyer for Rose, told The Tribune yesterday that his client intends to do just that.
"We will appeal given on the non-unanimous decision by the jury with regards to conspiracy to commit murder," Mr Rolle said.
"The normal trend with regards to the law is that a unanimous decision must be reached. In this case, that did not happen and on that premise we are going to appeal the decision. Murder has still not been established nor has conspiracy to commit murder which my client stood before the court for."
"So we will wait and take it up to the higher court," the lawyer added.
When asked if he thought the sentence was reasonable, he said "indeed it was."
"Mercy and grace met itself with regard to the sentence," Mr Rolle added.
Sullivan and Rose, with 29-year-old Eddie Artus of Sugar Hill Road, were alleged to have conspired to commit murder between November 1 and November 25, 2012.
Sullivan and Rose were further accused of the actual murder.
Knowles, the son of accused murderer and drug trafficker Dion "Emperor" Knowles, was shot and killed on Lincoln Boulevard off Cordeaux Avenue. He was found lying in the street, shortly after several gunshots were heard in the area. The elder Knowles was killed in 2011.
Artus was acquitted on direction of the judge at the close of the prosecution's case. The two other men claimed they were induced into making statements to police through physical mistreatment and threats. They maintained their innocence.
Investigators had denied the abuse allegations when cross-examined after testifying that Sullivan allegedly admitted he was present when his co-accused committed the crime. Rose also allegedly assigned the blame of the killing to Sullivan.
Rose was represented by Mr Rolle, while Sullivan was represented by Lennox Coleby. Darell Taylor and Aaron Johnson prosecuted the case.