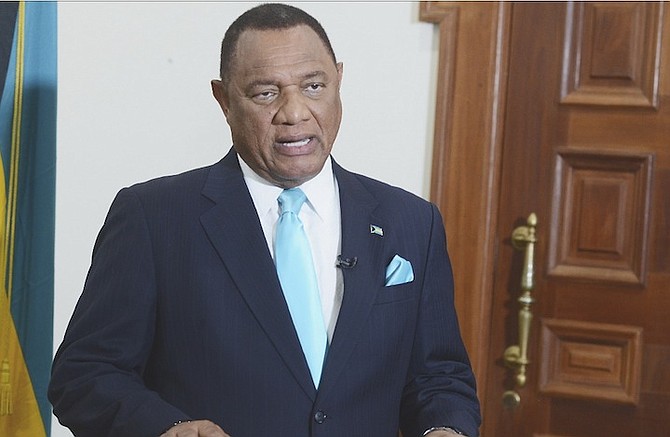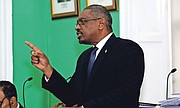 By SANCHESKA DORSETT
Tribune Staff Reporter
sdorsett@tribunemedia.net
PRIME Minister Perry Christie said yesterday there is "no way" he is going to let an "obstetrician/gynaecologist politician" force him to make a decision that is "not in the best interest of the people".
Mr Christie was referring to Free National Movement (FNM) Leader Dr Hubert Minnis who told reporters on Sunday that now is not the time for the government to begin renovations on the Maternity Ward. Dr Minnis has said the planned upgrades could create problems given the large number of births that occur around this time of year.
Speaking at a contract signing ceremony for renovations to the Maternity and Male Surgical Wards, Mr Christie said the Maternity Ward has not been renovated for over 50 years and women should not be forced to give birth in "undesirable" circumstances because previous governments did not have the will or the finances to upgrade the facility.
He urged doctors at the contract signing to tell Dr Minnis it's time to get on board with the improvements.
"No way would I let an obstetrician/gynaecologist politician use me to make this political," Mr Christie said.
"I want you to tell him, when you graduated and came to the hospital the state you met the Maternity Ward in. This hospital was built in the '50s and much hasn't changed since then. Tell him the problems we are trying to address. Tell him that it will cost a lot of money to do so and tell him for me that the prime minister said even though we are introducing National Health Insurance, my government has made the decision that it will use money from the Consolidated Fund to improve the Princess Margaret Hospital before people are charged rates under NHI. He needs to appreciate that people need better facilitates and better care."
This is the second time this week that the prime minister has criticised Dr Minnis about his comments on the planned upgrades.
On Tuesday, Dr Minnis suggested that Mr Christie "check his facts" before making "untrue, reckless comments" about the Killarney MP's tenure as minister of health.
In an interview with The Tribune, Dr Minnis denied leaving the Maternity Ward at PMH in a bad state and questioned why the prime minister waited four and half years to fix the ward, if Mr Christie thought it was "so terrible".
In fact, Dr Minnis said the only reason the prime minister is renovating the hospital now, is because "elections are right around the corner."
His comments came one day after Mr Christie said that when the PLP won the election in 2012, and when Dr Minnis demitted office as minister of health, the latter left the Maternity Ward "in a state not fit for women to go and have babies."
He also said that one of the operating theatres was "so bad" it was only used in an emergency.