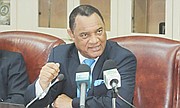 By SANCHESKA DORSETT
Tribune Staff Reporter
sdorsett@tribunemedia.net
THE Progressive Liberal Party (PLP) continued to promote its message that the Christie administration is the "only government" that can take the Bahamas into the 21st century at the weekend, while accusing Free National Movement (FNM) Leader Dr Hubert Minnis of being "unprincipled, ineffective and ill prepared".
While addressing scores of supporters at a joint Abaco branch meeting at the Central Abaco Primary School on Saturday night, Prime Minister Perry Christie said he has the "intellect, eloquence and energy" to run the country while Dr Minnis, on the other hand, is afraid to stand on the same stage with him and debate the issues.
Meanwhile, Deputy Leader of the PLP Philip "Brave" Davis scolded Dr Minnis for being unable to "speak in Parliament" and chastised the Killarney MP for "hiding behind his Facebook page" out of fear that the public will know "Dr Minnis has no idea what he is talking about".
Minister of Agriculture V Alfred Gray told the crowd that if the FNM wins the next election, the party would close the Bahamas Agriculture and Marine Science Institute (BAMSI) and "victimise" PLP supporters.
"I hear the other people have painted the town red," Mr Christie said. "I just want you to know that we haven't starting painting yet but remember you have yet to see the day the FNM leader, who says he wants to be Prime Minister, where he can stand here with the Prime Minister and the leader of the Progressive Liberal Party and talk about the issues.
"So people have to make a choice and they must determine whether or not a particular person who represents himself as a leader has the capacity to lead this country further into the 21st century, even though he can not speak to the issues. You have to decide who is best for the country.
"When you look at the team who has been assembled for the PLP there is no choice but to arrive at the conclusion that we have the best team ... I have the intellect, I have the eloquence and I have the energy. Why should we allow the FNM to come in and stop and cancel things? We have to keep moving forward. We have to be able to say that devil is a liar."
Meanwhile, Mr Davis said Dr Minnis did "nothing" while he was Cabinet minister in the last administration, "nothing" while he was in the Official Opposition and will continue to do nothing if he is elected to lead the country.
"Seriously, no one can even think of a significant contribution he made in all of the years he was a minister," Mr Davis told the crowd. "Can you think of anything Hubert Minnis did when he sat around the table? One thing? The only he was known for was awarding himself a big fat government contract, that is what he did while he was in government and then in opposition he broke up his party."
On this aspect, Mr Davis was incorrect. In 2005, a company called Leechez Investments Ltd - in which Dr Minnis has shares - was awarded a contract with the Public Hospitals Authority (PHA) for lease of its Stat Care building.
The contract was awarded during the first Christie administration, before Dr Minnis entered politics. However, the contract continued while Dr Minnis was health minister and still exists today.
The PLP has called the matter a conflict of interest; however Dr Minnis has said he disclosed his interests to former Prime Minister Hubert Ingraham when he was elected in 2007.
He has also said Mr Ingraham told him to have the government move out of the building in question, which Dr Minnis said he did. However the PHA reportedly could not find another building to rent and continued to rent the building on a month-to-month basis.
"Look how he treats your very own (Central and South Abaco MP) Edison Key," Mr Davis continued on Saturday.
"Now he come to you and ask you him to believe in him when the people closest to him don't believe in him. How foolish he thinks we are; he wants us to believe in him when those who sit around and was with him don't even believe in him.
"Recall a senior FNM wrote that if Hubert Minnis were elected he would plunge the country into a national nightmare; that is what they say about their leader. Minnis' own colleagues, the people who know him best, they said he repeatedly misled them. They said he would say one thing and do another.
"They call it the Hubert Minnis trust deficit, that's what they call it. He is unprepared and he is unprincipled and that is dangerous because there is a lot of hard and serious work left to do," Mr Davis said.
"We need someone who knows and understands the issues, not someone who can't even speak in Parliament and can't be interviewed on radio or television for fear of making a mistake. That is not someone you trust to negotiate with investors.
"Hubert Minnis, who requires other people to do his thinking and writing, who hides behind Facebook, he wants to represent us, I do not think so."
Mr Gray warned the crowd that if the FNM is elected to government, the party would "fire and victimise" PLP supporters.
"The FNM will cause trouble for you, they will try to keep you from voting," he said. "I read the newspapers and I see the comments on Facebook and I see hate and venom being spewed from everywhere. I can tell you PLPs, if the FNM miss and win, PLPs you are in trouble. You don't have to take my word for it, watch what is going on out there, they want this bad because they want to get at us bad, bad, bad and if you think I am joking watch and see.
"They can't win, I am telling you, if you read what they are saying they are only waiting to fire some of you. This is not the time to play; they will fire you and they will close BAMSI. "