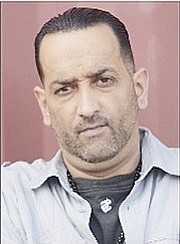 By Inigo 'Naughty' Zenicazelaya
NFL PRE-DRAFT
NEWS & RUMOURS
AS the long NFL offseason lingers on, here are a few stories to keep your eyes on as we draw closer to the NFL Draft.
The biggest being Seattle Seahawks All Pro cornerback Richard Sherman could potentially be on the move. But, to where?
• Here are 5 destinations
that make sense:
SHERMAN ON THE
TRADING BLOCK
Since 2011 no cornerback in the league has had more interceptions than Richard Sherman. But, now at age 30, could he be on the way out in Seattle?
Seattle head coach Pete Carroll recently acknowledged that the Seahawks have had discussions regarding Sherman with other teams.
The price obviously would have to be right for Seattle to move the three-time All-Pro and four-time Pro Bowler, even in light of Sherman's bumpy 2016 campaign.
And it's noteworthy that Carroll said, "I don't see anything happening at all."
Still, if we assume Sherman is indeed on the block, which team should trade for him?
LOS ANGELES CHARGERS ( It still looks weird when I type it)
Sherman is a great talent, but he has also played in the ideal system throughout his entire career, having spent all six of his NFL seasons with Seattle.
He's not a lockdown corner, so he would need to go to a team that understands his unique skill set.
The Chargers make a lot of sense. They just hired a defensive coordinator, Gus Bradley, who was Seattle's defensive coordinator when Sherman came into the NFL. They also have huge needs in the secondary, both at cornerback and safety.
Add in the fact that Sherman grew up in Los Angeles and it makes this trade even more logical.
He'd make the Chargers better from the moment he stepped onto the field.
NEW ORLEANS
If, however, New England holds on to Butler, Sherman could be a good fallback option for the Saints. New Orleans and Seattle have done business before, pulling off the Jimmy Graham blockbuster two years ago.
MIAMI
Executive vice president of football operations Mike Tannenbaum loves bold moves (think of the 2015 signing of Ndamukong Suh), and Miami could use an upgrade at corner.
INDIANAPOLIS
The Colts are looking for defensive help and reshaping their roster under new general manager Chris Ballard. Sherman and Vontae Davis would make a nice cornerback pairing.
PHILADELPHIA
After the Eagles addressed their issues at receiver in free agency with the signings of Alston Jeffery and Torrey Smith, the biggest problem area on the roster is cornerback.
DARK HORSE TO
GET THE DEAL
DONE
The DALLAS COWBOYS, yup my team.
Here's why, Dallas will give him the stage to continue to be the star that he is while also being on a team that plays to his strengths. The Cowboys play a lot of man-to-man coverage yet mix in zone.
He's one of the best ballhawking corners that we've seen in some time, and the Cowboys will give him the opportunity to make plays and be the leader of their secondary needs.
And then there's the Patriots.... never mind they've gotten rich enough this offseason already!
• Naughty presents 'Mischief and Mayhem in da AM' from 6am to 10am, Monday to Friday and 'The Press Box' sports talk show on Sunday from 10am to 1pm, on KISS FM 96.1. Comments and questions to naughty@tribunemedia.net