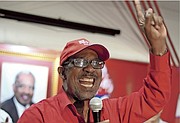 By KHRISNA VIRGIL
Deputy Chief Reporter
kvirgil@tribunemedia.net
FREE National Movement (FNM) Chairman Sidney Collie yesterday said Prime Minister Perry Christie's "vulgar" description of government spending this week shows that there are "dangers" attached to allowing him to hold on to power.
Mr Collie said Mr Christie's words were telling because the Christie administration has "pissed away" billions of dollars, leading to an increase of the national debt.
He was referring to Mr Christie's admission on Monday to those at the University of The Bahamas for a street renaming ceremony that it could be easy to "piss away" public funds as he suggested that the government had not wasted tax revenue.
This comes weeks after the Prime Minister stuck up his middle while on stage at a Progressive Liberal Party (PLP) political event.
"In a rare moment of candour our embattled Prime Minister got to the heart of his party's inept leadership. Speaking to an audience at the University of The Bahamas earlier this week, Prime Minister Christie acknowledged 'how easy it is to piss away money'," Mr Collie said in a press statement yesterday. "His words not mine.
"But very telling because during his disastrous five-year rule, this PLP government has pissed away billions of dollars running up our national debt by a projected $2bn. This astounding sum of recklessness comes even after the embattled Prime Minister imposed a 7.5 per cent VAT on the people. How easy it is indeed, but how costly it is for the Bahamian people.
"From flipping the bird at a speech in front of seniors, women and children, to now using vulgar terms to describe his mismanagement of your tax dollars, our embattled Prime Minister is demonstrating every day the dangers allowing him to continue to hold onto power.
"Besides validating the obvious concerns than he is losing his mind, the absurd nature by which he manages our finances for these last five years after making such lofty promises in his campaign shows our country can't afford five more years of the PLP's failed, inept leadership."
Mr Collie said regardless of what triggered Mr Christie's latest round of "offensive gestures", it is astonishing that he would joke about wasting tax dollars while Bahamians struggle to provide for their families.
"Since he's finally admitting his government is mishandling the taxpayers' money by pissing it away, will he rebuke his comrade, Minister of (State for) Finance Michael Halkitis, for his role in the PLP's profound financial negligence?
"It would be much harder for this government to waste money if we had true transparency and accountability. That would force this government, that forced the Value-Added Tax on us and promised to tackle our debt and deficits, to acknowledge the reality of their failures. Bahamians are long past being on the receiving end of another long-winded lecture from their inept Prime Minister on economics as so many struggle to get by.
"Bahamians are asking for a government that focuses on their needs, not leaders like Perry Christie, who keep an unexplained office budget slush fund of $2m while unemployment rises, tourism declines, education fails our students and crime plagues our streets."
Mr Collie questioned when the Christie "nightmare" would end, saying soon the people would have their chance to end a term of "disastrous" leadership.
"We as Bahamians must come together and make sure that this tyrannical government, that jokes about its own financial irresponsibility, will not have another five years to spread their incompetence around The Bahamas.
"The FNM will respect and pursue the interest of all constituencies. We will ensure that by the end of the next five years, families can enjoy more opportunity, better education and safer communities that they have been waiting for their government to deliver," Mr Collie said.