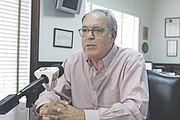 By RICARDO WELLS
Tribune Staff Reporter
rwells@tribunemedia.net
FREE National Movement (FNM) St Anne's candidate Brent Symonette has been challenged to a constituency debate by his opponent from the Progressive Liberal Party (PLP) Dr Charles Clarke.
Dr Clarke, who as well as being a candidate for St Anne's, lives in that community, told reporters yesterday that Mr Symonette's return to the area came as a surprise because his earlier tenure yielded very little positive results.
Speaking on the sidelines of the PLP's 'Meet the Candidates' function held at the University of The Bahamas (UB), Dr Clarke said he viewed public debates as the best way to determine what candidates have to offer.
"I challenge you today Mr Brent Symonette, I challenge you to a debate," he declared. "I think that is where we would put the rubber to the road. That is where we would find out just what you are about.
"In fact, I would like to take this time to send out a challenge to Brent Symonette, who is my main political opponent; I want to see what he can bring to the table.
"After all, he has had 10 years there before in my constituency. I can't see what he has done."
Early last month, UB's Chair of the School of Social Science Dr Christopher Curry launched the institution's series of town hall meetings centred on national debate, political polling and scientific research.
Subsequently, the school hosted its first event on March 15. Senator Keith Bell from the PLP, Marvin Dames from the Free National Movement (FNM), Stephen Greenslade from the Democratic National Alliance (DNA), Sharell McIntosh from the Bahamas Constitution Party, Alex Morley from the African Peoples Socialist Party and Andrew Stewart from the Bahamas National Coalition Party addressed the issue of crime for their respective organisations.
Plans are underway to host the second event in this series in the coming weeks; however, the panels are not designed to allow constituency challengers to address each other on plans for their communities.
Attempts to reach Mr Symonette on the challenge issued yesterday were unsuccessful.
Mr Symonette, the former Deputy Prime Minister, is returning to frontline politics after a one-term hiatus.
Approximately 4,337 voted in the St Anne's constituency during the 2012 general election. The constituency was one of the primary constituencies altered by recent boundary cuts ahead of the upcoming general election.
Several political pundits have suggested that the changes benefit the FNM and Mr Symonette.