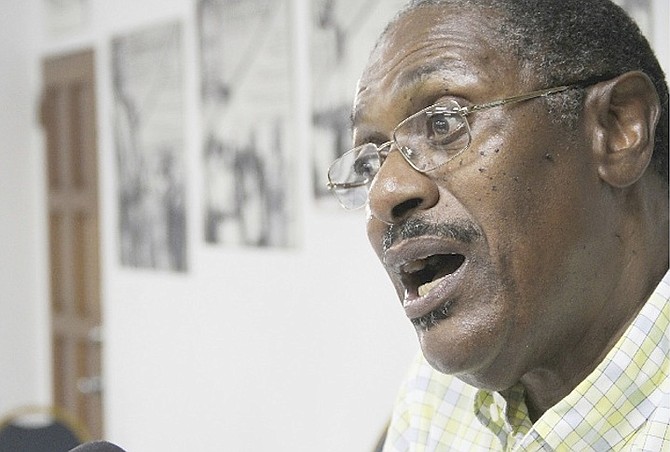 http://youtu.be/VIet7PBnN1A
By RICARDO WELLS
Tribune Staff Reporter
rwells@tribunemedia.net
PROGRESSIVE Liberal Party (PLP) Chairman Bradley Roberts has admitted he made a mistake as he defended his organisation's view that it did not intend to "diminish" the sacrifice of the Royal Bahamas Defence Force (RBDF) marines who were killed aboard HMBS Flamingo when setting the date for the general election on the 37th anniversary of their deaths.
Mr Roberts, in an interview broadcast during ZNS' 'The Bahamas Tonight' on Wednesday, insisted that the PLP's ratification of former RBDF Commodore Clifford "Butch" Scavella in Central and South Eleuthera stood as proof that the party respected the historic efforts of the force and further indicated that Mr Scavella was a survivor of the Flamingo Incident on May 10, 1980, when Cuban fighters opened fire on the vessel, killing four marines.
However, that claim was found to be untrue. When contacted by The Tribune on Thursday morning, Mr Roberts apologised for the claim, saying that he made "a mistake" in his comments.
Mr Roberts said on ZNS: "We have a candidate for Central and South Eleuthera who was one of those individuals who was caught up in that unfortunate incident and he became Commander of the Royal Bahamas Defence Force. It would be interesting to ask his comments on the matter."
However, on Thursday, he admitted his error. "I intended to note that Mr Scavella played a major role in commemorating those officers involved in that matter. As Commodore, he instituted the memorial ceremony that we have become familiar with and made it a point to remember those marines.
"In terms of our alignment with persons associated with the tragedy, one of our Senators, Hon Joseph Ricardo Curry, his brother was a marine and died in that incident. That was what I intended to mention in my initial claims."
HMBS Flamingo was under Commander Amos Rolle at the time of the incident. The ship departed the RBDF's Coral Harbour Base on May 8, 1980, for a routine ten-day patrol. Two days later, the ship and its 18 crew intercepted two foreign fishing vessels, 500 yards north of Cay Santo Domingo, according to RBDF records.
Subsequently, the HMBS Flamingo came under attack by the Cuban military and was sunk. Four members of the crew died - 21-year-old Able Seaman Fenrick Sturrup, 21-year-old Marine Seaman Austin Rudolph Smith, 21-year-old Marine Seaman David Allison Tucker and 23-year-old Marine Seaman Edward Arnold Williams.
The official monument of remembrance for the marines was opened on May 10, 2008.
On Tuesday, Mr Christie announced that the general election will be held on May 10. Responding to criticism levelled at him and the party over the date, Mr Christie said: "I want to make sure that everybody fully understands that we have not diminished the meaning and the sacrifice of the young men and that in anything we want to even do more to memorialise them. It is a date that I propose to attend the function, 'Butch' Scavella will also attend the function," he said.
"I propose to lift the function up and speak to it and give it meaning and hopefully whenever I speak to it, not withstanding the fact that it is Election Day, people will understand fully."