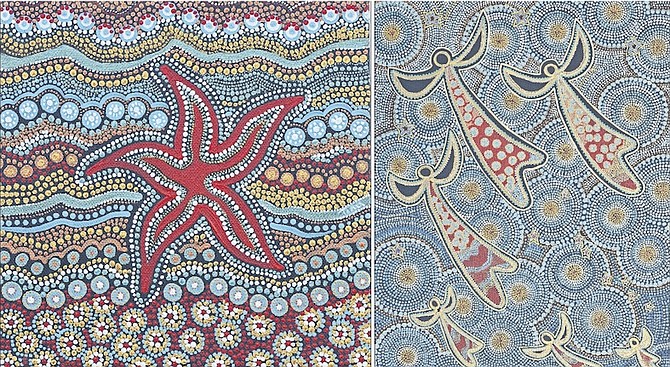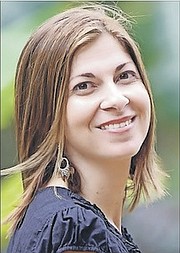 By ALESHA CADET
Tribune Features Reporter
acadet@tribunemedia.net 
As she struggled to find her way through the grief of losing her daughter Meah 10 years ago, Tina Klonaris-Robinson developed a love for inspirational speaking and painting.
The healing process that followed led to the launch of the Meah Foundation in 2012; an organisation created to help persons use their stories of pain and grief as tools to promote understanding and compassion. 
According to the Meah Foundation's website, Meah died as a result of induced labour at 38 weeks with the drug Cytotec, also known as Misopristal.
It was Tina's travels to Rwanda shortly after her loss, where she spent time with genocide victims as well as perpetrators of genocide, that she learned some of life's most important lessons. The people she met while on her travels and the stories she experienced helped her to have a new awareness of what was possible not only for her own life, but for all of humanity. 
Her lessons became the inspiration for a new book called 'Fly, My Love, Fly: Inspiration for Living Your Highest Potential', which features both paintings and motivational messages.
"Painting was an antidote to stress, a hobby I picked up during a family vacation to Canada. A month after we got home, I phoned my book editor in New York, Stephanie Gunning, and asked what she thought about the idea of taking some of the material from the self-help book and pairing it with the images I was producing. She loved the plan. Immediately she saw the book's potential and volunteered suggestions on how to format it," Mrs Klonaris-Robinson explained.
Everything came together quickly, and painting the final images for the book was joyful and effortless for the author – the project felt like the perfect fit. 
She describes her canvas as empty black spaces. Explaining her preference for using black canvases as opposed to white, she said they remind her that in a person's darkest times, if there is emptiness, there is the potential to fill their lives with light, colour, beauty and magnificence.
The contrast between darkness and light reminds her that both are necessary and that they have an intimate relationship. Darkness gives depth to her paintings, as it does to her life.
"I trusted that painting came into my life for a reason. It felt like the best next step to take. In a matter of weeks we produced the final manuscript, brought on an experienced book designer, Gus Yoo, who contributed his own visual flair to the spreads, and sent the book off to the printers," said Mrs Klonaris-Robinson.
She has learned many important lessons through the process of producing her first book, saying sometimes people take a few steps forward and many steps backwards, but most important is that they keep the vision alive and that they believe in their dream. 
"If you put your heart and soul into your work and trust in the process, you will discover that all things are possible. This book is about living an inspired life and reaching your highest potential. It teaches you how to affirm every day that your life has purpose and meaning. It is to help you to remember that you have valuable gifts and talents that must be used. 'Fly, My Love, Fly' is for anyone who appreciates art and inspiration. If you are ready to take something in your life to the next level, this is the book for you," said Mrs Klonaris-Robinson.
The author has also partnered with the Louis & Steen's New Orleans Coffeehouse on West Bay Street, where she will be teaching the lessons and principles found in 'Fly, My Love, Fly', and will also host a book signing and official launch at the end of May.
Her book can be found at the Logos Bookstore, My Ocean Stores, The Island Store, The Linen Shop, as well as at Louis & Steen's.
For a list of upcoming workshops, events, book signings, art shows, radio shows and live Facebook talks, readers are asked to connect with the author on Facebook, Instagram, Twitter and on the website at www.goodenergyworks.com for further information.