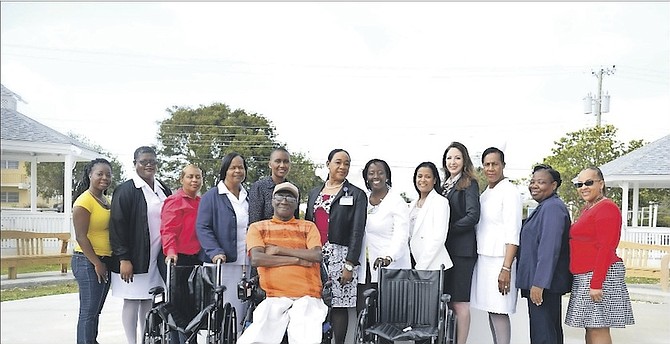 By JEFFARAH GIBSON
Tribune Features Writer
jgibson@tribunemedia.net
SANDILANDS Rehabilitation Centre (SRC) was recently the recipient of several new wheelchairs donated by members of corporate Bahamas. The donations came just in time for a special event which seeks to promote mobility in the elderly.
The donations were made by Queen Esther's Lodge # 2, Ports International and Outdoor Fitness.
The wheelchairs and cash donations are vital in maintaining mobility for patients, said Christopher Strachan, public relations officer at SRC.
And they could not have come at a better time, as SRC prepares for its sixth annual Fun Run/Walk, Push-a-thon on April 29 beginning 7am. The event is being held under the theme "Stay Active and Inspire Healthy Aging". 
"Sandilands Rehabilitation Centre appreciates these essential rehabilitation gifts from corporate Bahamas and invites them to register their elderly or physically challenged family members to participate – church groups, professional groups, sorority and fraternal groups and children – to get out for SRC's Push-a-thon," said Mr Strachan.
This year's patron is Daniel Bastian, a 66-year-old quadriplegic and resident at SRC who is determined to win the 2017 Push-a-thon. 
"Danny", as he is affectionately known, has become an iconic figure in the yearly event, having participated in five races, placing first two times and becoming the winningest competitor. 
The SRC Push-a-thon was introduced in 2012 by Dr Indira Grimes, a consultant at the Geriatric Hospital. She believes the initiative demonstrates the hospital's serious approach to providing holistic care for its elderly residents as well as the country's senior citizens.
Dr Grimes said in an earlier interview with Tribune Health that all are welcome to participate. She said part of the reason SRC hosts the event is not only for residents at the centre to be active, but also for the community at large to bring people who can push, walk with patients and push them along the route. 
"Many of them who are wheelchair-bound don't have the strength to endure a route pushing themselves," she said. 
The route begins at SRC, goes South on Fox Hill Road, then East on Yamacraw Road, and North through Elizabeth Estates, back West on Prince Charles Drive and South on to Fox Hill. 
Dr Grimes said SRC has noted more interest in the event from those in neighbouring communities and churches. The purpose of the Push-a-thon is to bring awareness of healthy aging and the importance of physical activity amongst elderly persons. The general public is invited to get active and participate.
"The elderly make up probably about 25 per cent of our numbers. Most of them come from the geriatric population at our Geriatric Hospital and through our outpatient clinics," said Dr Grimes. "We get some of them registered. A few of them who participate live in the area or attend churches nearby."
To register for the event e-mail daustin@src.phabahamas.org, indiragrimes@yahoo.com, or shiggins@src.phabahamas.org.