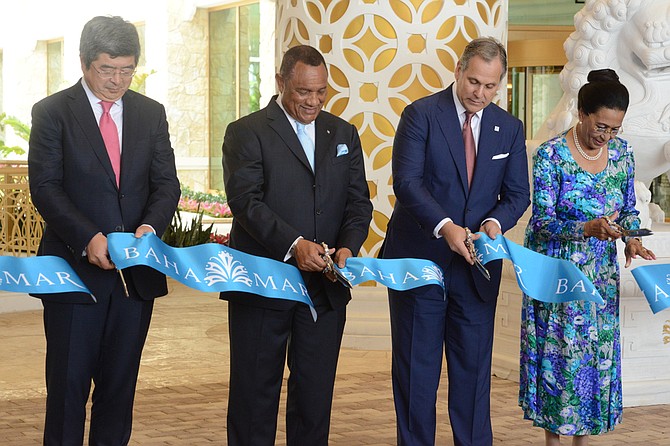 By KHRISNA VIRGIL
Deputy Chief Reporter
kvirgil@tribunemedia.net
PRIME Minister Perry Christie is adamant that the long awaited opening of Baha Mar's first phase on Friday is not a "mirage" or an "ostentatious effort of misleading and misrepresenting", branding it the most significant economic development event to ever occur in the country and the Caribbean region. 
For many Bahamians, Mr Christie said the opening of the Grand Hyatt is more than a dream come true; it is the unfolding of a bold vision that he led his administration in undertaking with the private sector 10 years ago.
Describing the resort as a vehicle that will reshape and redefine the next generation of destination resorts in the world, Chow Tai Fook Enterprises (CTFE) Ltd CEO Graeme Davis said the Baha Mar dream and the Bahamian dream intertwined to finally produce a "magnificent structure".
The remarks came during a ribbon cutting ceremony followed by a lavish reception in honour of the first phase opening of the West Bay Street resort. The event also saw Baha Mar employees line the walkway of the resort, greeting invited guests as they arrived.
Baha Mar was originally scheduled to open at the end of 2014. It was delayed because of the resort's original developer Sarkis Izmirilian filing for Chapter 11 bankruptcy in the United States in June, 2015. He eventually lost control of the $3.5bn mega resort after legal wrangling in US and in the Bahamas.
Despite the event to celebrate the opening of the massive hotel, many of the retail outlets remained closed. Mr Davis also confirmed yesterday that many of the guests in the hotel were not paying customers, but invited for a "preview period". He also said that the official date for guest reservations is scheduled for May 29.
Hong Kong-based Chow Tai Fook Enterprises (CTFE) ultimately acquired the property and said it would invest about $200 million to get the project's first phase ready for the general public.
"Ladies and gentlemen, Baha Mar's opening is not a mirage; it is real and it is the most significant economic development event ever to occur in a single phase within The Bahamas and the Caribbean region," Mr Christie told scores of people invited to attend the grand occasion.
"It is more than a dream come true; it is the unfolding of a bold vision which I led my Government in undertaking with private sector partners a decade ago.
"It began with the acquisition of government-owned and privately-held properties; the creation of a master development plan to transform the Cable Beach area into a world class tourism destination; large-scale private sector investment supported by Government concessions; overcoming a major recession, provisional liquidation and receivership; securing new investors and operators, and additional financing; all secured by endless and tedious negotiations to achieve the notable outcome and milestone in Bahamian tourism which we celebrate today.
"Amidst the complex and arduous negotiations, my Government and I remained focused on achieving three main objectives. Firstly, ensuring immediate remobilisation and resumption of construction, based on committed funding sufficient to complete construction and to open all parts of the project.
"Secondly, the opening of the casino, casino hotel, convention centre, convention hotel and golf course prior to the end of the 2016-2017 winter season.
"And thirdly, settlement and/or payment of all valid claims of contractors and subcontractors, suppliers and employees and other Baha Mar and CCA creditors.
"I am pleased that my Government has, with the co-operation of the stakeholders, achieved these lofty objectives. Not only has funding been provided to fund all remaining construction costs to complete the project, but some $101.5 million has been injected into the Bahamian economy towards payment of employees and unsecured creditors.
"This sum represents an unprecedented ex-gratia payment made by China Export Import Bank to unsecured creditors to accommodate the request of my government. 
"Hundreds of former Bahamian employees of Baha Mar have received the outstanding amounts due to them - unpaid salaries, severance pay, accrued vacation pay, and notice payments due by termination. Sums deducted from employees and former employees' salaries and pension contributions have been paid. Other Bahamian creditors and contractors have received a significant part and, in many cases, all of the value of their claims."
He also said: "At full opening, Baha Mar is projected to generate an additional 315,000 air passenger seats annually, an increase of 19 per cent over our 2015 record of arrivals and signalling in the marketplace the revitalisation of the Bahamas tourism brand.
"Baha Mar's full opening, therefore, is critical to the economic viability of our national economy. It is expected to generate over $700m in direct annual economic output and $1.1bn in indirect and induced output and to contribute over $45m in taxes annually, just from resort operations and national insurance contributions.
"That is why Baha Mar is such an important project for us. Its success in meeting its own financial targets and in reaching markets that are not in direct competition with other local mega resorts will have enormous consequences for us as a people, improving our livelihoods, maintaining of our way of life and delivering opportunities in this industry for our children's children. This is why I have been so focused on ensuring that the resort is completed and opened at the earliest possible opportunity."
Mr Davis thanked stakeholders saying their contribution to the project allowed "mountains" to be moved. 
"This magnificent structure you see before you is a testament of the vision conceived over 14 years ago by Sarkis Izmirilian. Through the strength and spirit of the Bahamian people and the commitment of the Cheng family, Baha Mar is the result of what happens when great minds, great hearts and human determination come together. Mountains can be moved structures rise from the ground
"To the Bahamian people, whose work is etched in every inch of Baha Mar who will be the ambassadors of this outstanding destination, thank you.
"To the government of the Bahamas that partnered with us, worked countless days to save this project from an uncertain fate and created the best outcome for the Bahamas, thank you.
"To China EXIM Bank, whose faith and unwavering commitment to the viability of this project persevered through all of its ups and downs, thank you.
"To China Construction America, whose engineers designed a marvel whose employees sacrificed years of their lives far away from home and were steadfast in building this beautiful tribute to the Bahamas, thank you.
"And on behalf of the Cheng family, owners of CTFE, we extend a special thank you to Prime Minister Christie who invested so much time, how you made yourself available day and night and insisted that the Bahamas emerge the winners throughout it all, thank you."
He said yesterday's opening was a proud and exciting moment for all to have reached this point. He said Baha Mar had an exciting future ahead.