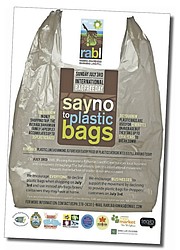 10 REASONS TO GO REUSABLE
Plastic bags never break down. Depending on the environment, a plastic bag can take from 15 to 1,000 years to break down.

Plastic bags are harmful to human health. Plastic bags break down through photo degradation. When this happens, the bag breaks down into small, toxic particles.

Plastic bags are not easy to recycle. Plastic bags tend to get caught in recycling machinery so roughly only two per cent of plastic bags are recycled. The rest are left to live on indefinitely in landfills or decompose in our oceans, leaking toxins into the water and soil.

Plastic bags are harmful to wildlife and marine life. An estimated one million birds, 100,000 turtles, and countless other sea animals die each year from ingesting or becoming entangled in plastic waste.

Plastic bags are costly to pay for and to clean up after. Thanks to their light weight, plastic bags in landfills don't always stay there. They are likely to fly away and can settle in trees, block drains and clutter beaches. The cost of plastic bag cleanup is about 17 cents per bag.

Plastic bags are made from non-renewable resources. They are made from petroleum products and natural gas, and their manufacture helps to drive up gas prices.

There are better alternatives available, and jobs to go with them. Reusable bags come in a wide variety of stylish shapes and prints, making shopping a bit less routine and more fun. The manufacturing of reusable bags is also another opportunity to create sustainable products and the jobs that go with them.

Greatly reduces plastic waste. One person using reusable bags over their lifetime would remove more than 22,000 plastic bags from the environment.

Other governments are banning plastic bags. More than a dozen nations have banned or taxed disposable bags in the past five years.

People are ready for the ban and thus, it should be adopted. People have seen how much the plastic bags have adverse affects on their health and the environment and so they desire change.
By GAVIN WATCHORN
On Saturday, we're kicking off our third Bring Your Own Bag (BYOB) Campaign at AML Foods Ltd's grocery food outlets in New Providence and Freeport.
For the entire day, we're encouraging customers to swap plastic bags for reusable grocery bags during their Saturday shopping. To help, our team will distribute free bags to shoppers, while supplies last.
It's our way of recognising Earth Day, a global initiative to focus attention on the impact we have on our natural environment. Participating stores in Nassau include Solomon's Super Centre, Solomon's Fresh Market Old Fort Bay and Solomon's Fresh Market Harbour Bay, and in Freeport, Solomon's Queen's Highway and Solomon's Lucaya.
Swapping out plastic for reusable grocery bags might seem like an inconvenience in the short run but it only requires some planning on the front-end of your shopping experience.
The use of plastic bags has an adverse affect on the environment as well as our health. For the past two years Solomon's Fresh Market and Solomon's have promoted a BYOB Campaign, as each reusable bag that is used has the potential to eliminate an average of 1,000 plastic bags over its lifetime.
Last year on Earth Day, we donated 20,000 re-usable bags at our stores in Nassau and Freeport. For 2017 our goal is to distribute 30,000 bags to customers.

This goal is within reach thanks to our own donation of 10,000 bags, and donations from our partners at The Tribune and Radio House, Aliv, RBC, Coca-Cola, Scotiabank as well as our international food vendors like Organic Valley and Miracle Noodle.
Trading plastic for the more eco-friendly alternative helps to preserve the natural beauty of the Bahamas. We believe that this small act could eliminate some two million plastic bags annually from local circulation. As a company, we are committed to enhancing the communities that we serve and this project is no different. Every day, in all of our retail outlets, we use biodegradable plastic bags as a way to reduce our impact on the fragile ecosystem. The BYOB Campaign takes it a step further as we seek to have plastic-free zones in all of our grocery operations.

By our own calculations, if each of our retail customer brings two reusable bags per week on shopping trips, that would cut down their weekly bag use by four to five plastic bags. For customers wanting to purchase additional reusable bags, they are available in stores. Part proceeds from the sale of all reusable bags go directly to the Bahamas National Trust.
We hope that you will take the challenge this Saturday to swap plastic bags for a better alternative and for a chance to protect our natural environment.
• Gavin Watchorn is the President and CEO of AML Foods Ltd.