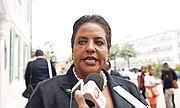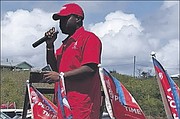 By KHRISNA VIRGIL
Deputy Chief Reporter
kvirgil@tribunemedia.net
LORETTA Butler-Turner yesterday officially nominated to run in the 2017 general election as an Independent candidate for Long Island.
According to the Free National Movement's (FNM) rules, it means Mrs Butler-Turner is no longer a member of that party.
Speaking to The Tribune yesterday, Mrs Butler-Turner said despite all that has happened in the past, she never had any doubts about nominating to run.
FNM candidate Adrian Gibson and G Errington Rolle, of the Progressive Liberal Party (PLP), also nominated to vie for the constituency yesterday at the Clarence Town Administrator's Office.
"I always had intentions of running again for Long Island, so this is the third time I have participated in a general election," she said during a telephone interview.
"I guess it's a little different in that this time I am on my own and I'm standing as an Independent and standing on the convictions of what I believe in."
She also said: "I have had meetings, people calling me trying to deter me (and) I had an offer from a high ranking FNM trying to move me out of Long Island. There have been many attempts, but the reality is I stand on the principle that I believe in these people.
"I believe that I have given good service to Long Island and many times these political organisations put forward a cadre of candidates. But being a part of a team doesn't make you a good MP. It's up to that individual to perform.
"I have been a performer. I have been an advocate. I have gotten results and there is no reason because I am not a standard bearer or a part of one of the major parties that I should withdraw from the race."
Mr Butler-Turner said she was the first candidate to nominate yesterday on the island because there were fears about doing so later. It was mandatory that candidates officially completed the process between 9am and noon yesterday.
"Let me state clearly that I was the first person to nominate this morning (yesterday) at the Administrator's Office in Clarence Town actually accompanied by a small group of my supporters and then we had a massive motorcade from my headquarters in Buckley's, Long Island.
"The reason we had the motorcade after the nomination is you must nominate by midday and we realised that there were many things in play and people might have tried to block the road to prevent us from getting there on time.
"So we also got our motorcade going very quickly. We were the first motorcade that went down to Clarence Town and it was an amazing turnout of vehicles and people. It was very festive with very strong, focused workers and very focused supporters. I am very pleased with the progress we are making."
The FNM also had a "monster" motorcade to accompany Mr Gibson to the nomination centre. The attorney and former Tribune columnist said "the message was sent" to voters in Long Island.
Mrs Butler-Turner was among seven FNM members of Parliament who submitted a letter of no confidence in Dr Hubert Minnis last year, forcing the FNM leader to be removed as Official Opposition leader in the House of Assembly. The "rebel" MPs voted to have Mrs Butler-Turner replace Dr Minnis. She was later stripped of her Long Island nomination.
A disciplinary tribunal has been convened to look into the MPs' actions and Dr Minnis asked the members to resign from the party after their coup.
However the tribunal has not ruled to date and none of the MPs resigned formally from the party. Edison Key is the only MP of the group to state publicly that he had left the FNM and is now supporting the PLP, however he did not officially cross the floor of the House of Assembly.