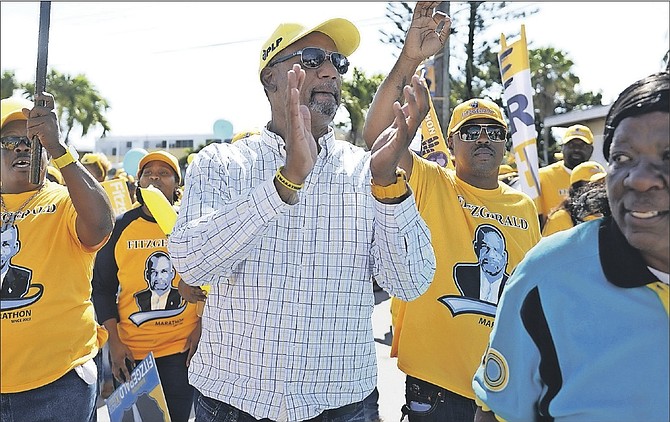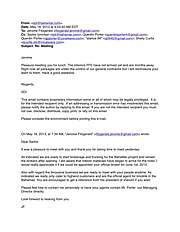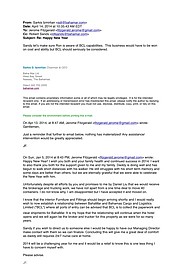 By RASHAD ROLLE
Tribune Staff Reporter
rrolle@tribunemedia.net
AFTER rebuffing reporters' questions about his Baha Mar dealings yesterday morning, Education Minister Jerome Fitzgerald later admitted in a short press statement that he sought contracts from Baha Mar for his family's business.
Responding to The Tribune's revelation yesterday that he requested brokerage, trucking and limousine contracts worth millions of dollars from Baha Mar, Mr Fitzgerald said he has communicated with Baha Mar's original developer Sarkis Izmirlian "on any number of matters over the past eight years either in person or by email".
"Prior to my father's illness he had engaged in discussions with Baha Mar to get some work," Mr Fitzgerald's statement noted.
"After my father's illness I wrote to Sarkis to follow up on those discussions and seek his assistance. Nothing came of it and that remains the case today."
Mr Fitzgerald said he has no contract with Baha Mar and its affiliates.
He said he owns no shares in Bahamas Cargo & Logistics (BCL), a company he said was formed by his father years ago.
However, some observers accused Mr Fitzgerald of a breach of the Manual of Cabinet and Ministry Procedure, which states in Clause 40b, a minister must not "solicit or accept any benefit, advantage or promise of future advantage whether for himself, his immediate family or any business concern or trust with which he is associated from persons who are in, or seek to be in, any contractual or special relationship with the government."
In one of several leaked emails published by The Tribune yesterday, Mr Fitzgerald advocated in 2014 on behalf of BCL, writing to Mr Izmirlian: " ... I would really wish to now establish a relationship between Baha Mar and Bahamas Cargo and Logistics Limited where all ports of entry can be advised that BCL is to collect the paperwork and clear shipments for Baha Mar. It is my hope that the relationship will continue when the hotel opens and we will again be the broker and trucker for this property as we were for so many years."
At one point, he expressed personal disappointment that Baha Mar's officials had not come through for him following his requests.
Among the questions raised by the chain of leaked emails is the nature of the relationship between Mr Fitzgerald and Daniel Liu, China Construction America's (CCA) vice-president. CCA is Baha Mar's general contractor.
In one email, Mr Fitzgerald referenced "promises" Mr Liu made to him concerning business.
"Unfortunately, despite all efforts by you and promises to me by Daniel Liu that we would receive the brokerage and trucking work, we have not apart from a one time deal to move 40 containers," Mr Fitzgerald wrote in January 2014. "I do not know why, I am disappointed but I have accepted it and moved on."
In his statement yesterday, however, Mr Fitzgerald addressed nothing related to his contact with Mr Liu and representatives of CCA more generally.
He could not be reached to explain what promises were made to him.

In his statement, Mr Fitzgerald also did not address the references he made in the emails to Mr Izmirlian about a "limousine business" he wanted to arrange with Baha Mar.
"We are ready to meet with your people anytime," he said in one email. "As indicated, we really only cater to high end customers and are the official agent for limolink in the Bahamas. You are encouraged to get a reference from the president of Viacom if you wish."
When contacted yesterday, Robert Sands, the senior vice-president of government and external affairs, said that he is "not aware" if any government official has existing contracts with Baha Mar.
Reactions to yesterday's revelations were widespread and largely critical of Mr Fitzgerald and the Christie administration in general, with some expressing outrage that a sitting Cabinet minister sought to secure deals for his family with Baha Mar.
People questioned why Mr Fitzgerald never revealed his dealings with the resort even as he later became one of the government's lead negotiators on remobilising the project.
His actions, some said, undermines the government's position on Baha Mar.
Up to press time, Prime Minister Perry Christie remained silent on the matter.
Calm
Mr Fitzgerald, however, maintained a cool and unperturbed demeanour in public. He showed up to be nominated at CI Gibson in the Marathon constituency with at least 100 enthusiastic supporters backing him.
Wearing a long-sleeved plaid shirt, jeans and socks with PLP symbols, he danced, laughed and led his supporters in chants of "PLP all the way!"
He rebuffed reporters who attempted to ask him questions. "Once I respond then you'll be able to judge from that," he said yesterday morning.
"It's a big day," he said about the nomination process. "It's been long awaited. Everything is in order and so now we're gearing up for the final couple of weeks. We're excited, we're motivated and we're going to march through the finish line and God willing victory will be ours."
One of his opponents in the Marathon constituency, Romi Ferreira, arrived at the school with a smaller group of supporters.
Mr Ferreira said voters should consider yesterday's revelations about Mr Fitzgerald when they vote on May 10.
"The Bahamian people aren't foolish and they are going to take into account all relevant circumstances and obviously this is a relevant circumstance to be taken into account," he said. "Change is in the air. It's palpable."