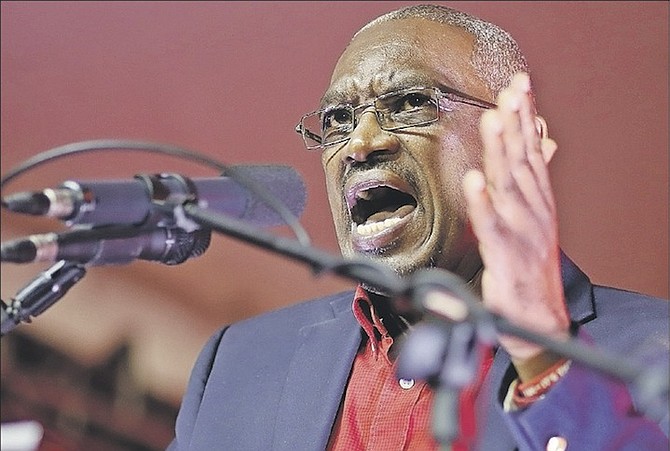 By KHRISNA VIRGIL
Deputy Chief Reporter
kvirgil@tribunemedia.net
FREE National Movement Leader Dr Hubert Minnis yesterday called on Prime Minister Perry Christie to immediately "fire" Education Minister Jerome Fitzgerald for allegedly "corruptly" using his position of power.
This, Dr Minnis added, should also be the fate of Attorney General Allyson Maynard-Gibson, charging that anything less than an immediate removal makes Prime Minister Perry Christie complicit in this "fraud".
Both ministers, he said, have failed to separate their private affairs from their public duty in negotiating with Baha Mar.
The FNM leader called for their terminations in response to a report exclusively published in The Tribune yesterday, revealing that Mr Fitzgerald had sought to secure millions of dollars in brokerage, trucking and limousine contracts at Baha Mar while he sat in Cabinet from as early as 2013.
The revelation was unearthed in emails leaked from a data breach of China Construction America's (CCA) server.
It came after both Mr Fitzgerald and Mrs Maynard-Gibson, who served as government negotiators on the Baha Mar remobilisation deal, earlier this week dismissed accusations of abuse of power and conflict of interest reported in a local tabloid, saying the claims were election smear tactics.
"A cardinal principle of Cabinet governance is that a Cabinet minister must ensure that no conflict arises or appears to arise between their public duties and their private interests," Dr Minnis said in a short press statement yesterday afternoon. "That trust is paramount in doing the peoples' businesses."
He continued: "For their failure and their inability to separate their private affairs from their public duty in their negotiations with Baha Mar, I and the FNM call upon Prime Minister Christie and the PLP to immediately fire Minister Jerome Fitzgerald and Attorney General Allyson Maynard-Gibson for corruptly using their positions of power to enrich themselves and betray the Bahamian people.

"Anything less than immediate removal makes the prime minister complicit in this fraud."
Hours before the statement was released, Dr Minnis said if the FNM is elected to office following the May 10 general election, the party will probe all areas to determine whether any corrupt practices have occurred and take those matters before the court.
Pledging to "go very, very hard on corruption", Dr Minnis said there was too much "ill works" in the country, suggesting that the present government had acted in a manner that fostered these kinds of acts.
In a statement released in response to The Tribune's article, Mr Fitzgerald maintained that he does not have contracts with Baha Mar or its affiliates. He said he does not own any shares in Bahamas Cargo & Logistics, a company he said was formed by his father years ago.
However he admitted to having discussions with Baha Mar developer Sarkis Izmirlian to gain work for his father's company.
In 2015, Mrs Maynard-Gibson revealed that her husband Maxwell Gibson owns the retail jewellery store chain that had been granted storefront leases in Baha Mar. At the time, she rejected accusations that she has a conflict of interest due to her role as government negotiator for the stalled resort.
Her revelation came in a statement released four days after she initially said her two daughters, 28 and 30, had leases to operate stores in Baha Mar while a guest on the More 94 FM talk show Real Talk Live.