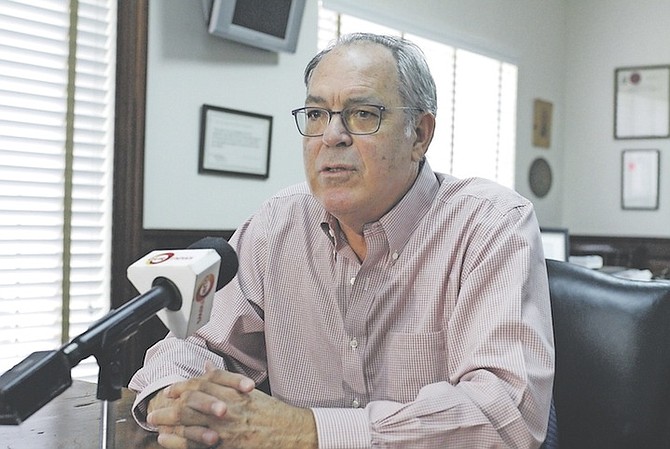 By AVA TURNQUEST
Tribune Chief Reporter
aturnquest@tribunemedia.net
FORMER Deputy Prime Minister Brent Symonette yesterday shrugged off public discourse over his immense wealth, instead speculating over the accuracy of disclosures filed by other veteran candidates last week.
Singling out Prime Minister Perry Christie and Minister of Labour Shane Gibson, but also speaking generally, Mr Symonette noted that the intention of public disclosures was to prevent a gross increase in wealth while in public office.
He suggested that there would be greater public confidence in the Public Disclosure Commission if its chair was not a political appointee, and stressed that any investigation into one candidate would have to be conducted on all.
"The intention of the Public Disclosure Act is that you do not make a considerable amount of money while you're in office," he said.
"Now, mine increased, I was out of office. Look over the last 35 years; look at a lifestyle that does not reflect what happens on paper, that's where I don't feel comfortable. If this was an issue of an independent body that could look at it and be confidential, we'd have more confidence."
Mr Symonette added: "But the man in the pulpit and the radio carries on about me. If rich people aren't supposed to be in politics, then that is a sad day for the Bahamas."
Mr Symonette, the Free National Movement's candidate for St Anne's, reported a net worth of $156.4 million - nearly $100 million more from his 2011 disclosure of just over $65 million.
"I have been out of politics for five years and my wealth increased. I'm quite comfortable," he said.
"You look at Perry Christie and see he's only worth some $2 million. They're looking for hullabaloo, check out (PLP Golden Gates incumbent) Shane Gibson. I don't have a bank account in the US that I use to accept payments of some $94,000.
"I don't know what the hullabaloo is about. I'm a businessman, I've disclosed my wealth over the past 20 years, I'm comfortable with my declaration. I'm not too comfortable that everyone can be as comfortable as I am with the accuracy of the reporting."
Mr Symonette underscored that he was not suggesting that there were inaccuracies in either candidate's disclosure; however, he noted that Mr Christie's net worth has hovered around $2m over three consecutive terms.
His comments concerning Minister of Labour Shane Gibson are a nod to revelations that Mr Gibson received payments of $5,000 month to his US account from Lyford Cay billionaire Peter Nygard. The transactions were made prior to the 2012 general election, and continued in 2013 when he was a minister.
Mr Gibson has explained that the money was used as a contribution to his 2012 campaign, and for community initiatives in his constituency like student scholarships.
"Christie has a very nice house," Mr Symonette continued, "right next to the largest hotel in the Bahamas and he has properties. I'm not saying it's (the disclosure) not accurate, the house may not be owned by him. That's why I'm saying that I'm comfortable. It's a criminal offence if you can't (support disclosures)."
"I think the problem with public disclosure is it's not just potential MPs but senior government officials also have to disclose," he said, "and we never know, and so we never know if it's accurate. The head is an appointee of the current government so it's a political appointment.
"If you appointed me you think I'm going to come and look at your accounts? That just ain't (going to) happen. And if they come and look at one person, they have to look at all," Mr Symonette said.