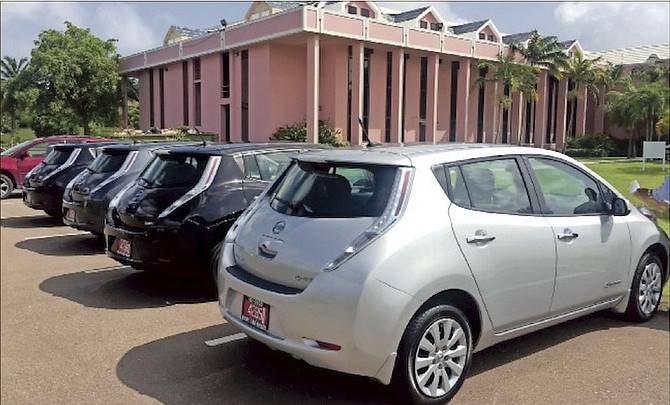 The Ministry of Finance has made the move towards greener transportation by leasing eight zero-emission, 100 per cent electric Nissan LEAFs, the world's best-selling electric vehicle (EV), from Easy Car Sales, the only local provider of 100 per cent electric cars.
The Bahamas Government is reaping the benefits of switching to electric transportation by saving on fuel and maintenance costs, which in turn improves the bottom line of the National Budget to the benefit of all taxpayers. To date, The Bahamas Cabinet Office, Department of Inland Revenue, Civil Aviation, and Social Services have all enjoyed the reliability, durability and the ability to meet the driving range needs of its drivers, who are all very pleased with the smooth ride and luxury features of the Leaf.
According to Ms. Pia Farmer, Director of Easy Car Sales, the Government's desire to reduce its carbon footprint is encouraging.
It demonstrates an interest in bringing The Bahamas in step with the growing trend of greener transportation around the world and helps align the nation with our 2030 Energy Policy goals.
Bloomberg magazine has predicted that the 2020's will be "the decade of the electric vehicle', and sales of EVs worldwide have shown a healthy increase year-over-year since 2014, reflecting the choice of more environmentally conscious consumers.
"We are seeing more and more interest in EVs at Easy Car Sales not only from the government sector but also from business owners and individual consumers who are learning that EVs are not only good for the environment but also great for their pocketbook.
"It's just a matter of time before more of us recognise the benefits of joining the EV revolution," said Ms. Farmer.